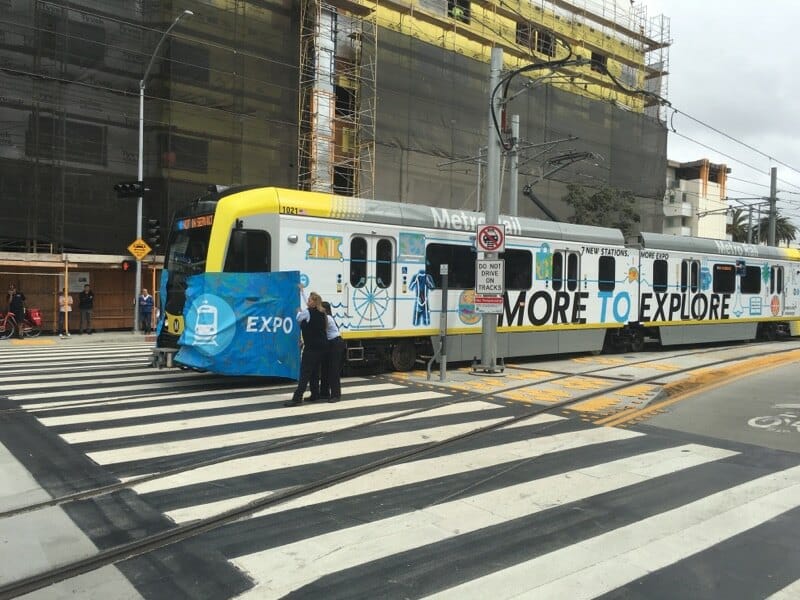 The day Los Angeles transit enthusiasts have been waiting for finally arrived this morning when the 6.6 mile extension of the Expo line opened, bringing passenger rail back to the westside of L.A. County for the first time since 1953.
Opening festivities continue tomorrow with celebrations at five of the seven new stations and a celebration at the Culver City station. Tonight and all day tomorrow, riding Expo is free. Also, the Big Blue Bus and Breeze Bike Share will be free to ride tomorrow.
This morning at around 9:45 a.m., the a ceremonial passenger service train pulled into the Downtown Santa Monica station at 4th Street and Colorado Avenue, carrying local dignitaries, elected officials, Metro and municipal staff, enthusiasts, and supporters of Expo.
Passenger service officially started at noon, but before that happened, Metro held a ceremony in the parking lot just south of the Downtown Santa Monica Expo station, emceed by 2nd District L.A. County Supervisor Mark Ridley-Thomas. Also among the dignitaries were County Supervisor Sheila Kuehl and State Assemblymember Richard Bloom, who served on the Santa Monica City Council from 1999 to 2012.
L.A. Mayor Eric Garcetti was on hand, as was Santa Monica Mayor Tony Vazquez, who posed with a surfboard and offered a hearty welcome to the Expo line in Spanish. Garcetti declared that L.A. was making the transformation from being the nation's car capital to being the nation's transit capital. Metro CEO Phil Washington was on hand to offer some words, too, as was L.A. City Councilmember Mike Bonin, who thanked the many people in the audience whose grassroots activism helped make Expo happen, especially Friends4Expo.
"We are in the midst of a transportation revolution," @metrolosangeles CEO Phil Washington says of the #ExpoLine, and other lines underway.

— Laura J. Nelson 🦅 (@laura_nelson) May 20, 2016
Santa Monica's longest-serving City Councilmember Pam O'Connor, who represented the city and the South Bay on the Metro Board of Directors in 2001 when the Expo right of way was chosen. In fact, she was the board member who, with tremendous grassroots support, made the motion to set the right-of-way that is today the Expo light rail line.
Were you at today's opening ceremonies? Are you planning to attend tomorrow's ceremonies? What is your experience riding Southern Calfornia's newest light rail line? Please post your pictures and comments below.