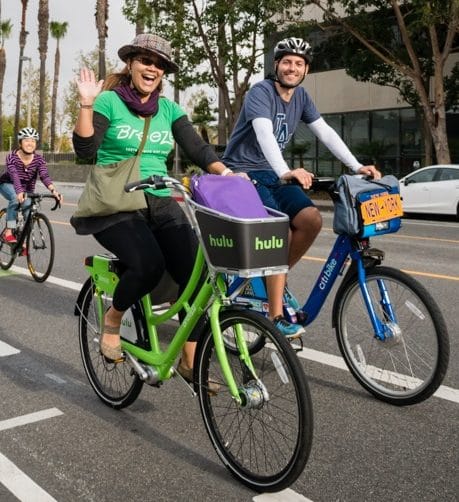 Local safe-streets advocate, Cynthia Rose, took home the Alliance for Biking & Walking Susie Stephens Joyful Enthusiasm Award at the National Bike Summit in Washington D.C., convened earlier this month by the League of American Bicyclists.
Rose, a long-time Santa Monica resident and head of the local chapter affiliate of the L.A. County Bicycle Coalition (LACBC), Santa Monica Spoke, was acknowledged by the national organization for her "vibrance" in advocating for safer streets for people, according to the LACBC website.
"She played a key role in helping launch the first public bike share program in Los Angeles County: Breeze Bike Share, and pioneered the Los Angeles County Bicycle Coalition Local Chapter program," the LACBC website reads. "She is an educator, an advocate and a rider leader, but [not] even her actions are outdone by her joyful enthusiasm. Her bright smile and infectious attitude have invited countless new riders into the movement by making bicycling welcoming and fun."
The Susie Stephens award is named for a founder of the Alliance who was killed in a traffic collision in 2002.
"I feel so incredibly honored to have received this award that commemorates the dedication and inspiration of Susie Stephens. I am so grateful to her and her inspirational mother who has carried on her daughter's enthusiasm with her own commitment and dedication," Rose said in an email to Santa Monica Next.
"With that I must say that like any successful advocacy – there are many to thank. Those that preceded us and make our work and successes possible, those that continue today working with us side by side, and in Santa Monica to our wonderful, talented community and civic partners that help and support us in creating a safer environment that encourages more people to walk and bike. I am deeply appreciative of all these partners every single day," she said.
Under her leadership Santa Monica Spoke and its many members have been supportive of the city's steps toward creating shared streets, including its recently-launched bike-share system, the first of its kind in Los Angeles County.
"We're proud to have the [bike-share] system that we have," she said.
It's "a testament to Santa Monica [that the city] adopted proven, yet cutting-edge technology that allows for a much more flexible system," she said, referring to the fact that Breeze Bike Share employs a "smart bike" model. With Breeze, the locking mechanism and computer that allows users to check out the bike are located on the bike itself, rather than on a stationary dock.
Bringing bike-share to Santa Monica was an integral part of the city's Bike Action Plan, adopted in 2011.
During the community process for the plan, Spoke remained "active partners" in crafting the details.
"We don't do it for recognition, but this type of recognition is particularly heartfelt," said Rose about her award. "Something like this fuels your energy to keep moving forward when you are recognized by your peers in such a fashion at a national level."
She is taking that energy to the future of advocacy in her city, which she says is "getting Vision Zero adopted as part of the our DNA."
"We will need commitments from all our branches of government to work toward this goal to make our community and its citizens safer," she said.
Last month, the City Council recently moved forward with a Pedestrian Action Plan, which does explicitly call for a Vision Zero policy goal.
Rose said she is also particularly excited to start a new bike safety education program at Santa Monica High School.
"We've had a lot of Safe Routes to School education we've done during after school hours, but this is the first education that we're doing during school time," she said. "We're going right into the school; we're doing it during P.E. class."
The program will happen during the first two weeks of April, she said, and will target about 800 students. The program is supported by the city's Safe Routes to School programing and is in collaboration with the Samohi, SMPD – Bike Liaison and traffic services supervisor.
While there are currently no concrete plans to make it a recurring program, Rose certainly hopes that it can become one.
At this year's conference, the LACBC also took home an award for its campaign supporting the Los Angeles Mobility Plan 2035.