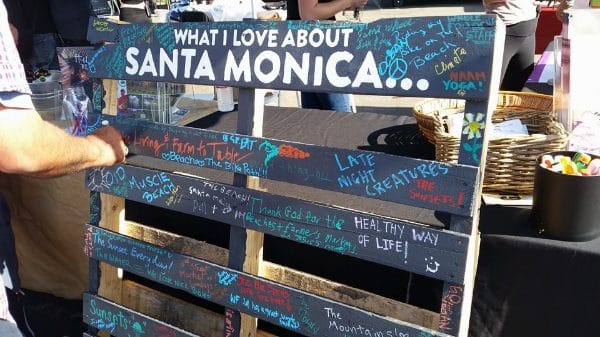 Laemmle Monica Film Center reopens to the public in Downtown Santa Monica; 626 Night Market comes to Santa Monica's Barker Hangar; a local favorite hotspot gets a speakeasy and new name; Metro says Expo Phase II will open in May; and would you like to have lunch with the mayor?
Laemmle Theater Reopens in Downtown Santa Monica
After nearly two years of renovations, Laemmle Monica Film Center is open for business once again.
"The Monica Film Center now has six auditoriums, all with digital projection, comfy seating, and optimally proportioned, intimate viewing. Adjacent to the two auditoriums upstairs is a mezzanine lounge. In a first for us, visitors will soon be able to order beer and wine from the concession stand," according to the Laemmle's blog.
The theater also includes a ground floor restaurant space that will open later this year with  Flower Child as a tenant.
Now showing at the Laemmle Monica Film Center: The 2016 Oscar-Nominated Short Documentaries, Anomalisa,  The Lady in the Van, Mustang, and Theeb.
Expo will open in May, according to Metro
At this week's VerdeXchange conference, Metro CEO Phil Washington announced that Expo Phase II will open to passengers in May, according to Streetsblog L.A.
Some @VerdeXchange #VerdeXchange highlights: Expo Line to open May, interview biking congressmember @repblumenauer https://t.co/xhaO9gaNdA

— StreetsblogLA (@StreetsblogLA) January 26, 2016
Metro recently took control of the substantially completed track from the Expo Construction Authority, the state-created agency responsible for building the project.
Now that the right-of-way has been handed over, Washington noted in a memo circulated earlier this month that once the maintenance facility at Stewart Street in Santa Monica is handed over to Metro, Expo will be determined to have achieved "full substantial completion." Metro will announce Expo Phase II's opening day within 30 days of the maintenance facility handover, according to officials.
Warsawa Gets a Speakeasy and a New Name
A long-time staple of Downtown Santa Monica, Warsawa, is getting a new name and a speakeasy, according to EaterLA.
"Longtime Polish spot Warsawa has switched into another gear, trading in its decades-old legacy for a new name, Solidarity. The menu remains largely the same as when the place first opened back in 1979, but they've updated the interior and even added a secret new speakeasy component," L.A. Eater reports.
626 Night Market Comes to Barker Hangar
Santa Monica Airport's Barker Hangar will host the wildly popular 626 Night Market in February.
"626 Night Market, the Asian food event franchise you love to wait in line for, is switching things up after being plagued by years of intensely packed crowds across many of their events in both Los Angeles and Orange County. The new format they're trying out is called Taste of Night Market, and it's a sort of capsule event meant to entice the Westside out of their bubble, with the promise of guaranteed food via a ticketing system, rather than the cheaper pay-per-vendor model from before," L.A. Eater reports.
"This year's first-ever Taste of Night Market runs February 5 and 6 at the Barker Hangar in Santa Monica, and will of course include a wide variety of tastes from the past few Night Market years, as well as other, newer options like Brazilian street food from Marina Chung, a past contestant on The Taste. Those diminutive kid chefs from Man vs. Child will also be on hand, generally being adorable in their chef's outfits. There's also the inclusion of more live music and general entertainment this year, which hasn't been as large a focus in years past," L.A. Eater reports.
Tickets are on sale now, according to L.A. Eater.
Lunch with Santa Monica Mayor Tony Vazquez
Santa Monica's League of Women Voters is hosting a luncheon with Mayor Antonio Vazquez on Saturday, February 6.
"Our League is honored to host this opportunity for members of our community to sit down and get to know our new Mayor,"  said Ann K. Williams, president of the LWVSM. "This kind of in-depth, thoughtful conversation with our local political leaders is a key realization of our mission."
On the docket for conversation is Vazquez's trip to Paris for the 2015 2015 U.N. Conference on Climate Change.
"Also, he'll share his ideas for our city during his tenure as Mayor and answer attendees' questions," League officials promise.
Reserve tickets at lwvsantamonica.org/calendar.html or send an email to Pres@lwvsantamonica.org.