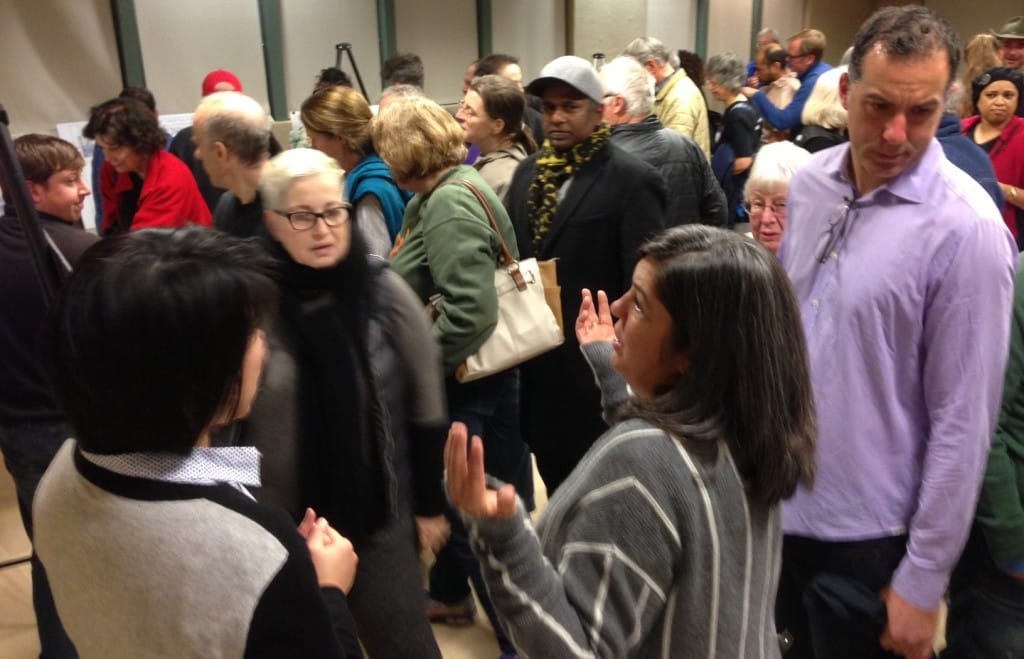 This article first appeared on Streetsblog Los Angeles.
An overflow crowd of more than one hundred people showed up to last night's Expo Bike Path meeting at the Palms-Rancho Park Branch Library. A representative from Councilmember Paul Koretz welcomed the boisterous crowd before turning the open house over to L.A. City Transportation Department (LADOT) Senior Bicycle Coordinator Michelle Mowery.
The crowd appeared to be about half from L.A.'s bicycling community about half from the adjacent Cheviot Hills neighborhood. Many Cheviot Hills neighbors have actively opposed to both the Metro Expo rail line and the Expo bike path.
Mowery stressed that "no decisions have been made" about how to close the 0.7-mile "Northvale gap" in the Expo bikeway. She stated that the meeting would be just an open house, and requested that all concerns be submitted in writing. As Mowery directed attendees to speak with city staff at an array of poster stations, disparaging comments were uttered by attendees: "this is ridiculous" and "we're like sitting ducks."
In mid-2016, when the completed portions of the Expo bike path open, LADOT plans an "interim detour" sharrowed bike route on Northvale Road from Overland Avenue to Motor Avenue. This route fairly hilly close to Motor Avenue.
The final gap closure bikeway will run in a less hilly alignment, just north of the Metro Expo Line tracks. There were three design options presented, described after the jump below.  All of these share a basic 1800-foot off-street bike path for the eastern stretch between Dunleer Drive and Motor Avenue. They only vary between Overland and Dunleer.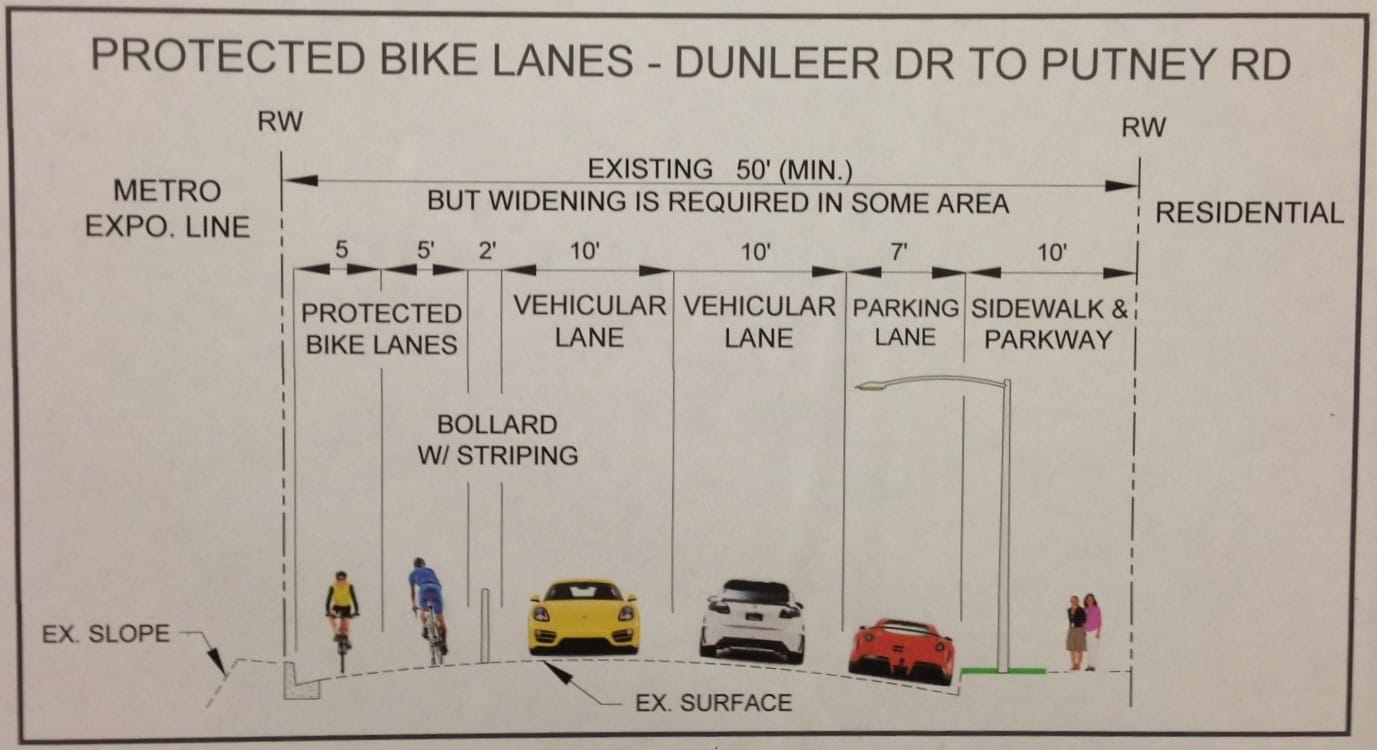 Option 1: 2-Way Protected Bike Lane with Bollards
Option one includes two-way protected bike lanes running along the south side of Northvale Road. This is the least expensive option at an estimated $13 million. Costs are saved by minimizing widening and curb work. It would eliminate existing parking on the south side of Northvale; city staff studied parking utilization on that side of the street to be typically five to twelve cars.
Option 2: 2-Way Protected Bike Lane with Curb
Option two (sorry my cross section photo was unusable) is similar to Option 1, but the protection instead of being just bollards would be an actual concrete curb. The option two cross section showed more ample lanes: six feet for bike lanes, and eleven feet for car lanes (excessive for such a quiet residential street). These widths necessitate more engineering to widen the roadway, and extend it above the adjacent slope, hence tripling the estimated cost to $36 million. Like option one, parking on the south side of Northvale would be removed. Additionally the expanded width would necessitate greater tree removal.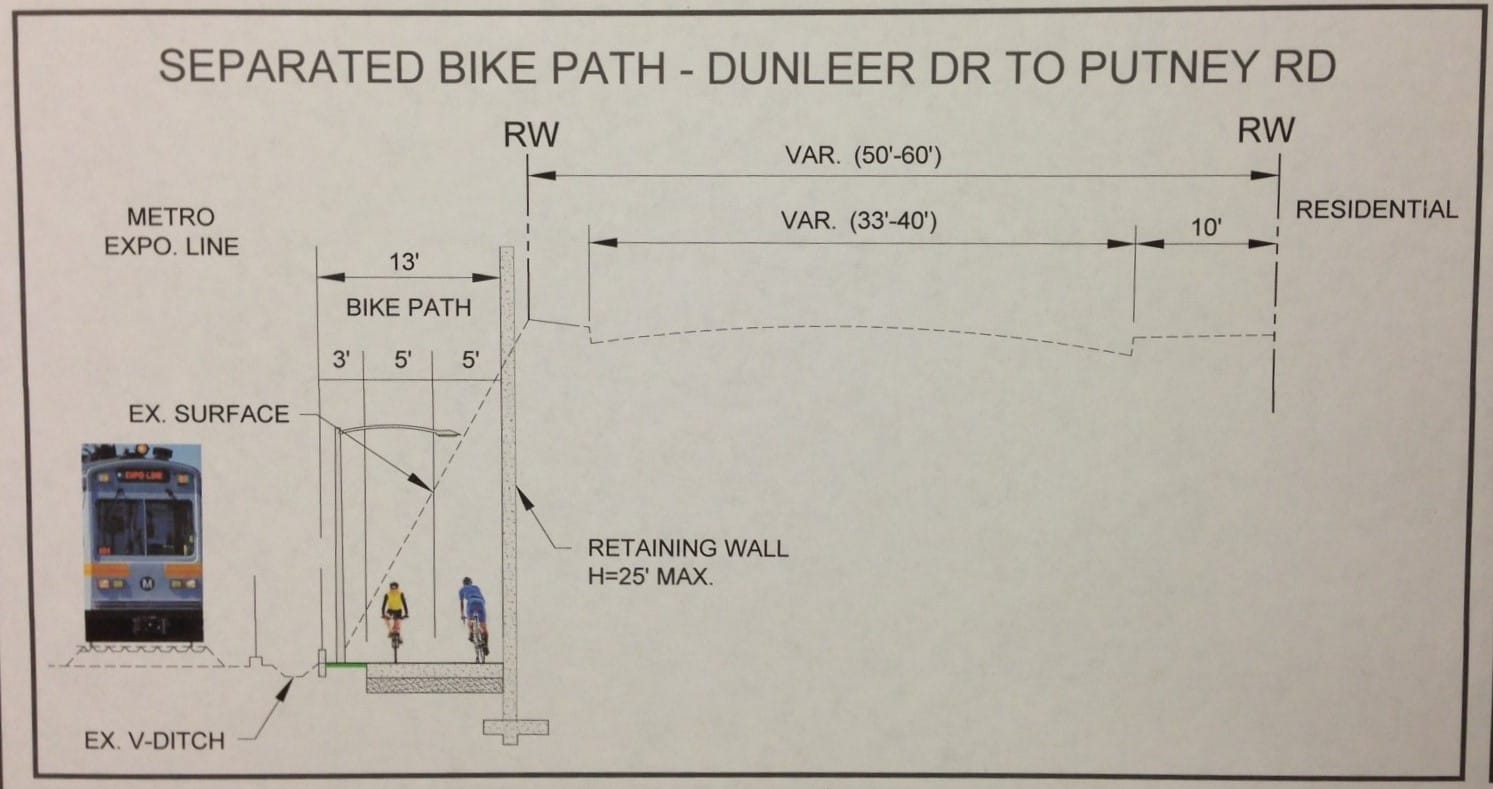 Option 3: Off Street Bike Path
The third option would be to put the bicycle path into the trench where the train runs. This would necessitate building access ramps and retaining walls, so it is most expensive option at an estimated $52 million. That is a very steep cost for 0.7 miles of bike path, though it would preserve nearly all of the existing parking on Northvale.
Next Steps
At this point, the gap closure project is not funded. Mowery stated that LADOT intends to pursue "grants available." Though she did not specify the source of the grants, it is likely to be the state Active Transportation Program and/or Metro Call for Projects funding. Even at its cheapest – $13 million – this is likely to be among the most expensive cost-per-mile bike facilities competing for those funding sources. It would not be impossible to fund an expensive project like this, but it could be difficult, necessitating things like matching funds to make it more competitive.
And, on top of the stated costs, there is also a potentially thorny issue in regards to easement acquisition. The eastern portion of the bike path (roughly Dunleer Drive to Motor Avenue) will run on an undeveloped sewer easement that runs behind about a dozen homes. The property owners can not build there, due to the sewer easement. But the city cannot build a transportation facility on what is solely a set-aside for sewers, so the city will need to approach these property owners and "buy" easement rights from them. In a similar situation on the L.A. River bike path through Elysian Valley, the city offered a few thousand dollars for using unbuildable easement areas, and most owners took the offer, but one held out, asking for several hundred thousand dollars. Ultimately, the city went to court and won, but the cumbersome acquisition process delayed the project a couple years.