This article first appeared on Streetsblog California. Listen to its author, SBCA editor Melanie Curry, discuss California Governor Jerry Brown's proposed 2016 budget with California Streets Initiative Executive Director Damien Newton on this week's #DamienTalks podcast. You can download the episode at the #DamienTalks homepage on Libsyn or listen below.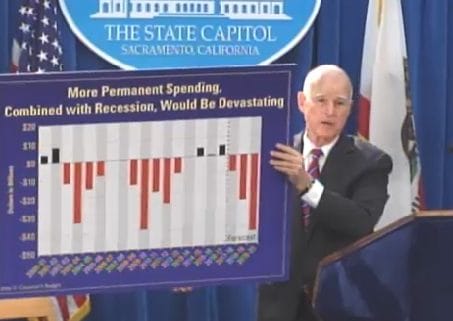 Governor Jerry Brown announced his proposed state budget for 2016-17 in Sacramento yesterday.
His transportation funding proposals include a few new ideas, but the budget represents precious little change to the status quo. The budget does not reflect any profound rethinking of how we fund transportation, a disappointment for those hoping for change after the recent climate change talks in Paris. Brown offers a few tidbits for discussion, but does nothing to upend California's focus on cars as the primary transportation mode.
Brown's boldest proposal is for a new "road improvement charge" on all vehicles to help pay for the backlog of maintenance that has been growing steadily in recent years. The governor also proposes increasing the tax on diesel, and adjusting the gas tax so it will stop falling as it did last year. There are some new programs that could be transformative, but details are thin and so is the funding.
This early budget proposal will be revised as revenue estimates are adjusted after the tax season, and it will be subject to negotiations with both houses of the California legislature before the budget is passed in June. At present, the budget is just a framework proposal. The devil, as they say, is in the details.
What Are Low Carbon Roads?
For the first time, active transportation is acknowledged in the state budget as a strategy for fighting climate change. Brown proposes using $100 million from the Greenhouse Gas Reduction Fund (GGRF) to create a "Low Carbon Road Program," defined as "competitive grants for improvements to local streets and roads that encourage active transportation, such as walking and bicycling, transit, and other carbon-reducing road investments."
This should be great, right? The GGRF gets its money from the state's cap-and-trade system, which charges industry for emissions. By law, the money thus earned must be used to help reduce greenhouse gasses, and what better way to reduce emissions of any kind than by encouraging people to use their feet and bikes instead of driving their cars?
But there are two problems with the Governor's proposal. One is that it ignores the already existing, already successful, already underfunded, and oversubscribed Active Transportation Program, which has been funding bicycle and walking infrastructure and planning for the last several years. There is no mention in this budget of the Active Transportation Program, and this new Low Carbon Roads program could be duplicative or even end up replacing the ATP.
Josh Stark of TransForm expressed frustration with this. "We're sitting on a perfectly good program that could easily be funded and already has support–but they just won't do it," he said.
Kathryn Phillips of the Sierra Club agrees that "[these] funds would be more smartly assigned to [the] existing Active Transportation Program (ATP)…The ATP provides a more reliable way to make sure projects that improve safe mobility for bicyclists and pedestrians also provide greenhouse gas emissions reductions."
The second problem with this Low Carbon Roads proposal is that the "other carbon-reducing road investments" mentioned at the tail end of the programs' description remain undefined. After all, some recently passed regional plans consider the addition of new highway toll lanes a better way to reduce carbon emissions than supporting active transportation.Alvaro Sanchez of the Greenlining Institute and Josh Stark of TransForm both pointed out that there are many questions about what might be included in the program.
"In last year's special session on transportation, there was a lot emphasis on pothole repairs," said Sanchez, and on their supposed potential contribution to emission reductions. Stark points out that traffic light synchronization, for example, has been included in past discussions of what might constitute a "low-carbon road."
Signal synchronization is designed to smooth traffic flow by decreasing the number of stops a vehicle has to make. For some reason, the notion that smoothing out traffic speeds can reduce greenhouse gas emissions just won't go away. Republicans argued in their transportation funding proposals last year that the GGRF can legitimately be used to repave and widen roads to make traffic move more efficiently, because, they say, reducing congestion also reduces greenhouse gas emissions. The idea even cropped up in a very recent bill from Democratic Assemblymember Jim Frazier, chair of the Assembly Transportation Committee.
But what these proposals don't acknowledge is that reducing congestion by building roads is actually impossible, because improving roads, in the end, just results in more driving. Even Caltrans acknowledges this. Which means that improving roads will not decrease greenhouse gas emissions, and therefore the GGRF cannot legally be used to fund programs that focus on improving traffic flow.
"GGRF money is focused on reducing greenhouse gas emissions," said Sanchez. "There is so much better use we can make of this money."
No Funding for Transit Operations
The governor's budget proposal also includes increased investment from the GGRF in transit. The proposal simply increases the amount of funding for the existing Transit and Intercity Rail Capital Program (TIRC) by $500 million. It's administratively easy because many transit agencies already fulfill the requirements of the GGRF, including reducing emissions and serving disadvantaged communities. The program uses a formula to distribute funds, and because of that some of the smaller transit agencies stand to gain very little from existing funding levels, so an increase is not a bad thing.
"Under normal circumstances we could cheer about new funding for transit," said Stark. "But that program already receives money, with limited public input. We need that money distributed more equitably, and transit operations would be the place to do that."
However, the TIRC only funds capital expenses—new buses or rail cars, for example. It won't fund transit operations. But it's difficult to improve and increase transit service—which is the only way to can get people to choose transit over driving—without increasing operating costs. And there is little available funding for transit operations from any source, state or federal.
Transforming Communities and Government Programs
The governor also proposes using $100 million from the GGRF for a new program, to be administered by the Strategic Growth Council (SGC). The SGC currently shapes and oversees the Affordable Housing and Sustainable Communities program, which is the only program providing GGRF money for bicycle and pedestrian infrastructure.
The new program, called the Transformational Climate Communities Program, sounds like an extension of what the SGC is already doing with the Affordable Housing program: it will "support projects that integrate multiple, cross-cutting approaches to reduce GHG emissions. The program will combine climate investments within a local area for catalytic impact, including investments in energy, transportation, active transportation, housing, urban greening, land use, water use efficiency, waste reduction, and other areas, while also increasing job training, economic, health and environmental benefits."
But that's pretty much all the information that's available about the idea.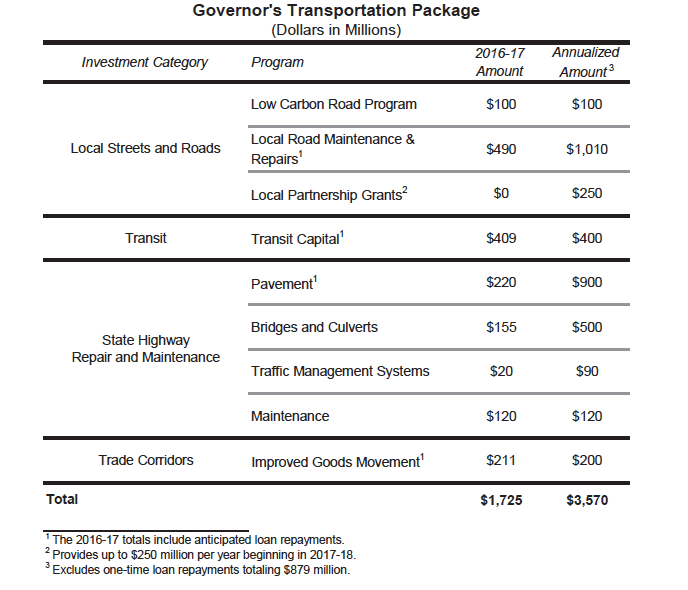 Other Funding Sources
All of the programs mentioned above would be funded by the GGRF, which is only a subset of the transportation budget, and limited by law to helping reduce greenhouse gases. In sum, the governor proposes:
$100 million for Low Carbon Roads
$100 million for Transformational Climate Communities
An additional $500 million for the existing Transit and Intercity Rail program, on top of the $224 million already awarded, but not including funding for operations
$500 million for the Air Resources Board's ongoing Low Carbon Transportation Program, which focuses on zero-emission vehicles—by which they mean vehicles with electric engines, not bicycles
$25 million for expanding access to alternative fuels, like biodiesel
$400 million for the Affordable Housing and Sustainable Communities program
Compare that to the proposed $16.2 billion for highway repairs and road maintenance, $2.3 billion for trade corridors, and $1.2 billion for local roads.
It just seems a little topsy turvy, especially for a state that calls itself a leader on climate change policy.
"It's frustrating," said Stark, "The gas tax, for example, gets distributed by formula, and a lot of it goes to the State Transportation Improvement Program, which still funds highway expansions. We support gas tax increases, as long as that money is being used to support the people who pay it. Transit pays diesel taxes, and it should be receiving some benefits too, but in this budget all of [the diesel tax] goes to trade corridors."
Last Year's GGRF
There's also a bit of sleight of hand happening here. The GGRF money included in this budget includes about forty percent of last year's GGRF revenue that was never allocated.
"The hope was that they would move the remaining portion in January to the agencies that had already received funding," said Greenlining Institute's Sanchez.  "There was a lot of agreement among the three branches about how to use that money. We were surprised that they didn't just finish the discussion." Instead, the entire amount has been rolled over into the next year's budget.
One big problem with that is the unallocated and therefore unused funds begin to look like a nice big pot of available funds. And some see that as a solution to the parallel discussion about "fixing potholes."
In addition, GGRF funds are required by statute to help disadvantaged communities, which tend to bear the brunt of climate change impacts. So when the budget trumpets the benefits to low-income communities from the Low Carbon Road program, for example, it's just pointing out a statutory requirement. But other funds, including highway maintenance funds from gas taxes, are not limited in the same way.
"Revenue that was already directed at programs to reduce greenhouse gases in disadvantaged communities are taking a big hit" because they were not allocated funds last year, said Sanchez. "Coming off the Paris climate change talks, and emphasizing California's leadership in climate change there, this really sets a bad precedent."
It's true that there is a huge backlog of deferred maintenance, and no one can reasonably argue with the notion that California roads are badly in need of repair. But it's a question of priorities.
"If we want to tackle climate change and address the safety and mobility needs of all Californians, including low-income disadvantaged residents who lack access to a personal vehicle," says Chanell Fletcher, Senior California Policy Manager for the Safe Routes to School National Partnership, then "we must invest in clean, and affordable transportation choices–such as bicycle paths, continuous sidewalks, safe crossings, and robust transit service –that reduce driving, congestion, and air pollution; improve public health; and advance social equity."
Governor Brown is a fiscal conservative, and his insistence on wise spending has benefited the state greatly. At the budget presentation, he reiterated multiple times that it is important to keep new spending to a minimum so that future recessions won't destroy the state's economy. Which is fine, and wise. But his unwillingness to challenge the status quo on transportation spending contradicts his desire to position himself—and California—as a climate change leader. It means that long into the future, California will still be paying for transportation infrastructure that focuses on moving cars, not people.