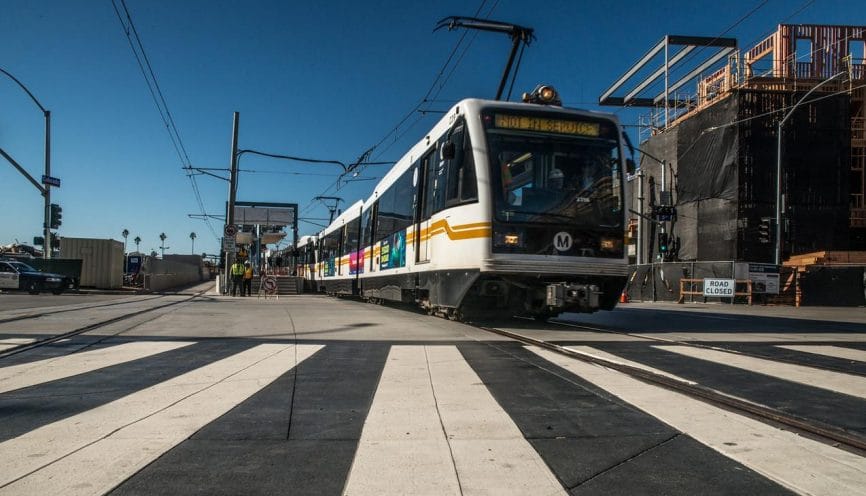 Next week, the Expo Construction Authority — which oversees construction of the Exposition Light Rail project — is anticipating handing over the Phase II right-of-way to Metro, which will begin regular train testing or "pre-revenue" service, according to a report to the Expo Construction Authority Board [PDF]. (Note: An earlier version said the report was the Metro Board. The article has been updated to show that the report was actually made to the Expo Construction Authority Board.)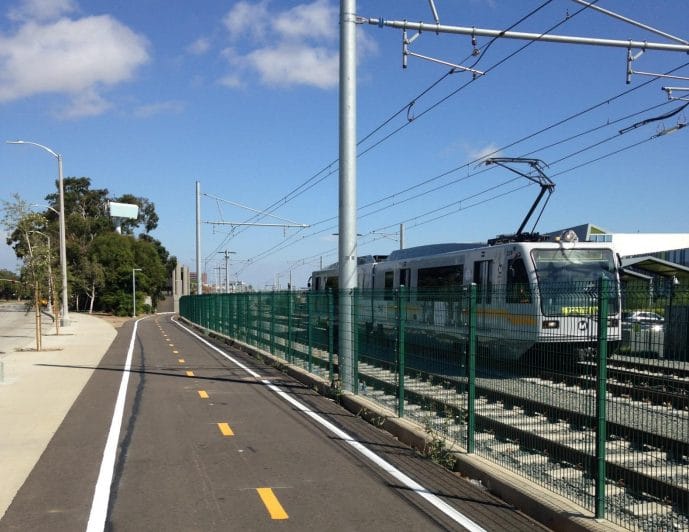 The report also says that Expo Phase II will open to Downtown Santa Monica in late April or early May 2016, connecting that beachside city to Culver City, USC, L.A. Trade Tech College, and Downtown L.A.
Recently, the Expo Construction Authority announced that the from December 14 to December 18, it would be conducting headway tests — running trains at normal frequencies– from 8 a.m. to 8 p.m.
As for the Expo bike way: "Paving, irrigation and lighting systems work is near completion and final inspections are ongoing," the report says, though there is no mention of whether it will open ahead of the train.
Pre-revenue service is "intended to simulate actual service with trains running on a regular schedule, but with no customers on board," according to The Source's description of Expo Phase I's pre-revenue service test period.
When Phase II opens, it will be the first passenger rail service to Santa Monica in more than a half a century.
Expo Phase I, which runs from Downtown L.A. to Culver City, began pre-revenue testing in January 2012 and continued for about four months before the train opened to the public on April 28, 2012.
Trains will be running more frequently now, so Metro and Santa Monica officials are reminding people to be alert and cross tracks with care.