To help pay for increased service hours and incentivize riders to use passes, the Big Blue Bus will restructure its fares starting on January 10, 2016.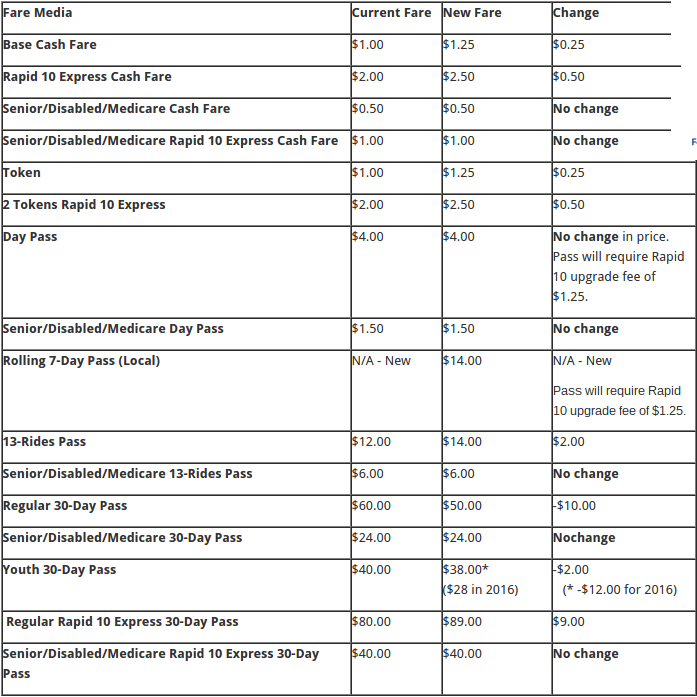 The fare restructuring plan, which was approved in October by the Santa Monica City Council, includes a $0.25 increase to the base cash fare (and a $0.50 increase to the regular Rapid 10 fare) while fares for seniors, passengers with Medicare, and disabled passengers will remain the same throughout the system.
The regular and youth 30-Day Big Blue Bus passes will actually be cheaper under the new plan, reduced from $60 to $50 and $40 to $28 respectively. A new rolling 7-day pass for $14 will be added, according to the Big Blue Bus website (Note: As noted in the comments below, the 30-day youth pass price of $28 would be for 2016 only unless an alternate stream of money is located to offset the $10/pass subsidy).
The primary reason for the fare restructuring, the agency's first since 2010, is that Big Blue Bus is undergoing the most comprehensive change to its service alignment in the municipal agency's 77-year history to better integrate with Expo light rail, expected to reach Santa Monica this spring.
As part of the service realignment, Big Blue Bus will see an 11 percent increase in service hours as well as a pilot on-demand ride service, like Lyft and Uber, to serve passengers disembarking at Expo stations after BBB service hours.
Big Blue Bus Director Ed King discussed the service realignment, designed to better integrate BBB service to complement the Expo light rail, back in August when the first phase of a three-phase integration began.