With Expo Phase 2 on schedule to open less than a year, things are really starting to coalesce. Most recently, we got a glimpse of the future: Expo Phase 2 bikeway in Santa Monica has been painted and is looking very much like a proper separated bike route.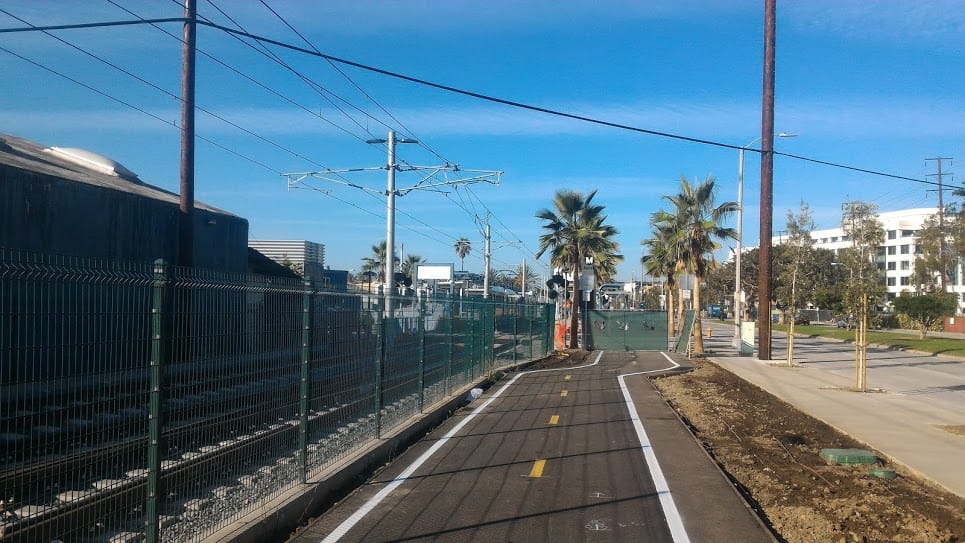 The above stretch runs between Stewart and Cloverfield in Santa Monica. The Expo bike path will run the length (mostly) of the light rail route from Downtown Los Angeles to 17th Street and Colorado in Santa Monica, where it will feed into the city's existing bike network.
"The Expo Line has been designed as a multi-modal transit parkway that includes a bikeway and bike facilities. The Phase 2 portion of the bikeway is mostly an exclusive bike path that travels along the right-of-way to 17th Street in Santa Monica, where it will connect to the city of Santa Monica's existing bikeway system," Expo officials said in an email Wednesday.
"The bike path terminates on the southeast corner of 17th Street and Colorado Avenue, and from there, bicyclists can continue along 17th Street on the existing bike lanes. There are also existing bike lanes along Broadway (1 block north of Colorado) that bicyclist can take all the way west to downtown and the beach," officials said. "The bikeway includes lighting and landscaping, and each station will feature secure bike racks and lockers for the convenience of transit patrons. The plan is to open the bike path along with the light rail line next year."
It will also connect at Santa Monica's Bergamot Station (26th Street and Olympic) with the Michigan Avenue Neighborhood Greenway.
It looks like the bike path will also include markers to indicate the addresses on each block in order to help people identify where they are while using the route.
The difference a little paint can make is astounding, though. Take a look at what this area looked like just a few short months ago in May.