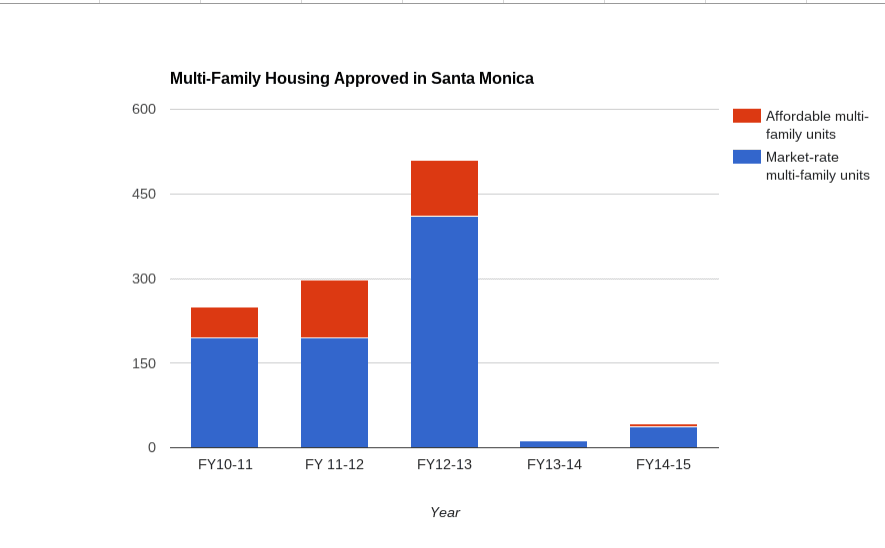 In early 2013, the City Council met to set criteria that would get certain projects prioritized. With about 35 development agreements then pending, the Council wanted to make sure that the projects that moved forward the fastest were housing projects, especially if they had a mix of unit sizes and more affordable housing.
However, since that meeting, Santa Monica's housing approvals have dropped off precipitously. The above graph is made from the following data, culled from the cities annual Proposition R reports. Approved by voters in 1990, Prop R requires that nearly one in three new housing units built are set aside for low- and moderate-income residents and each year the city tracks new units approved and how many of them are subsidized.
| | | | | | |
| --- | --- | --- | --- | --- | --- |
| | FY10-11 | FY 11-12 | FY12-13 | FY13-14 | FY14-15 |
| Total multi-family units | 250 | 297 | 510 | 13 | 42* |
| Number of units that are affordable | 55 | 102 | 99 | 0 | 5* |
*A Prop R report is not yet available for FY 2014-2015. For that period, an estimate about how many housing units were approved was made based on Council records.
So, why the slowdown? One reason is that the city was under under a legal obligation to adopt Santa Monica's new zoning ordinance by July 2015. It was a long process and so hearing schedules were very full with zoning ordinance discussions.
Now that the process is over, however, the Council will have an opportunity to once again prioritize housing projects. The question is, will it? Today, there are 11 proposed mixed-use housing projects pending, a total of about 1,400 units.
Santa Monica has seen a net growth in population of about 9,000 between 1960 and 2013, according to the U.S. Census. In 1960, Santa Monica was home to about 83,000 people and in 2013, about 92,000 lived here.
Since the 1990s, unlike a lot of other coastal cities, Santa Monica began encouraging housing to be built — mostly in the city's downtown — while requiring a certain portion of that new housing to be rented below market rate through Prop R.
Still, the region is facing a housing supply crisis of historic proportions and Santa Monica is not immune. The last time it was this bad, the Axis powers had just surrendered and the clarinet was still considered a hip instrument. Coastal cities like Santa Monica are feeling the crunch the hardest in the form of skyrocketing rents and home prices. As demand to live in these cities increases, the number of homes there have failed to keep pace, kept artificially low by restrictive zoning laws and political opposition to new homes.
The Santa Monica City Council was actually on track to approve more than 400 new units, about 100 of which would have rented below market rate to people whose incomes qualified them for a subsidy, in FY 2013-2014 when it narrowly approved a development agreement with Texas-based developer Hines to redevelop a transit-adjacent, formerly industrial seven-acre property.
No-growth activists rallied against the project, called the Bergamot Transit Village, and gathered enough signatures to put the new project to vote. Rather than out the project on the ballot, however, the City Council overturned its approval. The site, across the street from the future Expo light rail stop at 26th Street, is now being occupied as an office park.
Still, Mayor Kevin McKeown and his colleagues have reiterated their commitment to building housing. "We have already directed staff to prioritize housing approvals now that the Planning Commission is done with the draft zoning code," McKeown told Santa Monica Next in March after a report from the nonpartisan Legislative Analyst's Office about the depth of the state's housing crisis was released.
On Sunday, the Santa Monica City Council will gather for a special meeting precisely in order to set the city's priorities for the next three-to-five years. If producing more housing at all levels of affordability isn't among them, it is likely that Santa Monica, like other coastal communities, will only continue the trend toward exclusivity and the loss of middle income and low income residents.