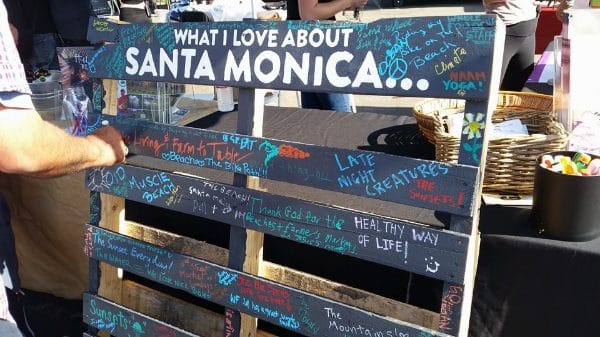 "The Santa Monica Life" is a weekly roundup of the local fun, food, drinks, and lifestyle goings-on in Santa Monica. When the fun is so close, it's easy to leave the car at home and walk, bike, or bus to all the exciting stuff our city has to offer. Isn't that why we love it here?
It's Friday again. Good job and congrats on making it through another week. You deserve some fun. Why not head to the Third Street Promenade tonight for a free screening of the original Willy Wonka and the Chocolate Factory?
Afterwards — or before — you can head to Main Street, which is officially L.A.'s best new food street. At least, that's what Thrillist says and we are inclined to agree, given the variety and liveliness of the options. It helps that Main Street is tremendously walkable and bikeable, allowing visitors to really explore their options at a human pace.
Whether you are looking for a Mainstay like Shoop's Delicatessen or a newer joint like Jinya Ramen Bar, Main Street will undoubtedly have something for you. Thrillist gives us a rundown of "everywhere [on Main Street] you need to eat before the rest of LA finds out."
In other news, Mendicino Farms is on track to open a Santa Monica location this fall at 7th Street and Wilshire, according to L.A. Eater.
"Local developer Pacshore Partners renovated the old Art Deco building on the corner of 7th and Wilshire, transforming it into a lively, airy space that reflects its "everything local" theme. In rejecting corporate tenants, the developers have offered independent local eateries the opportunity to keep Santa Monica full of unique, appealing storefronts. As an extra attraction, local artist Bumblebeelovesyou recently completed a new and colorful mural on the side of the building," L.A. Eater writes.
In the meantime, you can visit Simplethings, which opened a location at 808 Wilshire Boulevard, according to L.A. Eater.
"The menu for Santa Monica's Simplethings is now online too, showcasing the usual assortment of daily pies (there's a schedule for when they come out and everything!) and all-day sandwiches. In the AM, spring for one with an over easy egg, bacon, and breakfast potatoes, or go for the afternoon roast beef with a side of Brussels sprouts. Brunch, apparently, is coming soon," L.A. Eater writes.
If it's libations you're after, L.A. Magazine recently sat down with Marissa Grasmick, Bar Director at Santa Monica's aestus restaurant to talk cocktails.
"The aestus bar program is rooted in the classics. Every drink on the menu is a tried and true pre-existing cocktail from either prohibition/Golden Age or a modern classic. My favorite drink—that is on our menu currently—to have after work is the Trinidad Sour," Grasmick told L.A. Magazine.