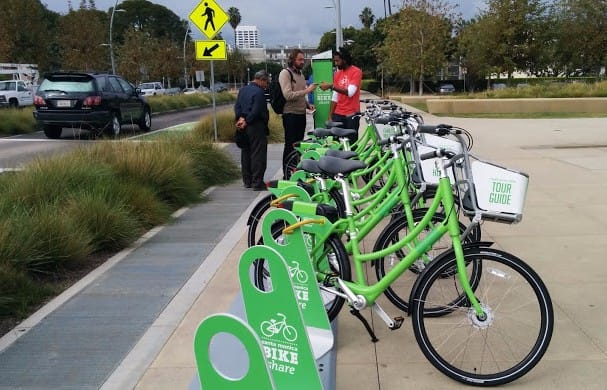 Yesterday's monthly Metro Board of Directors meeting saw the chair transition from L.A. Mayor Eric Garcetti to L.A. County Supervisor Mark Ridley-Thomas. Incoming Chair Ridley-Thomas expounded on his priorities for the current fiscal year. The July board meeting did not feature any major controversies, but there are a number of items likely to be of interest to SBLA readers.
Rail Lines Opening 2016: Metro CEO Phil Washington gave a brief update on the status of the extensions of the Gold and Expo Lines. Both of these projects are nearing completion. They are both being built by Construction Authorities, who will finish their work, then turn the project over to Metro for testing and, then, operation. Washington reported that Gold Line Foothill Extension construction is expected to be complete in September, while Expo Phase 2 construction is expected to be complete in mid- to late-October.
Bike-Share: With bike-share opening in Santa Monica, downtown L.A. and Long Beach this fiscal year, and other places interested, Metro is still working out if and how the agency needs to enforce or incentivize interoperability. Differences were evident in the debate at last month's board meeting.
County Supervisor Don Knabe strung together multiple apt cliches urging Metro not enforce bike-share vendor conformity in a "my way or the highway" approach because "one size does not fit all." Garcetti, on the other hand, asserted that a single countywide system "funds well," meaning that it could attract lucrative countywide advertising sponsorship. Duarte City Councilmember John Fasana expressed "misgivings" over the current two-vendor implementation underway, suggesting that he thought it might be better for Metro to "buy out" systems being implemented by Long Beach and Santa Monica.
Glendale City Councilmember Ara Najarian pointedly asked Metro staff how cities like his should approach implementing bike-share, asking if Glendale should "refrain from an RFP (Request for Proposals)?" Staff recommended cities contact Metro, pursue funding together, and work things out on a case-by-case basis. 
Ultimately, a handful of bike-share amending motions were molded into the omnibus Ridley-Thomas bike-share motion [PDF], which was approved. The motion commits Metro to work with Santa Monica and Long Beach to pursue interoperability, but generally steers any future new or expanded bike-share systems under Metro's umbrella.
Joint Development: Despite some boardmembers trying to make sure that Metro would not "divert revenue," the Metro board approved its new joint development policy, which allows the agency to discount land prices up to 30 percent to incentivize development of affordable transit-oriented housing. There was also a follow-on motion clarifying affordability definitions, directing some lease revenue fund first/last mile connections, and fostering better outreach to work with local communities.
Expanding Metro's Arts District Yards: As part of subway expansion, Metro is upgrading its yards south and east of Union Station, along the Los Angeles River in the downtown Arts District. A motion [PDF] by board member Jacquelyn Dupont-Walker and County Supervisor Hilda Solis committed Metro to working with the Arts District community to ensure compatibility with other projects there, including the new 6th Street Bridge.
Angels Flight: Under an approved Garcetti motion [PDF], Metro will study how the currently-shuttered Angels Flight railway might resume operations.
Blue Line Pedestrian Safety Improvements: The board approved proceeding with installing $30 million worth of improvements to the Metro Blue Line to improve pedestrian safety.
Metro Parking Policy: The vote on Metro's proposed new parking ordinance was postponed until September. It appeared that multiple directors wanted to make changes to the policy, but discussion was cut short, so it will likely be discussed further and probably modified at the Board's Executive Management Committee in September.