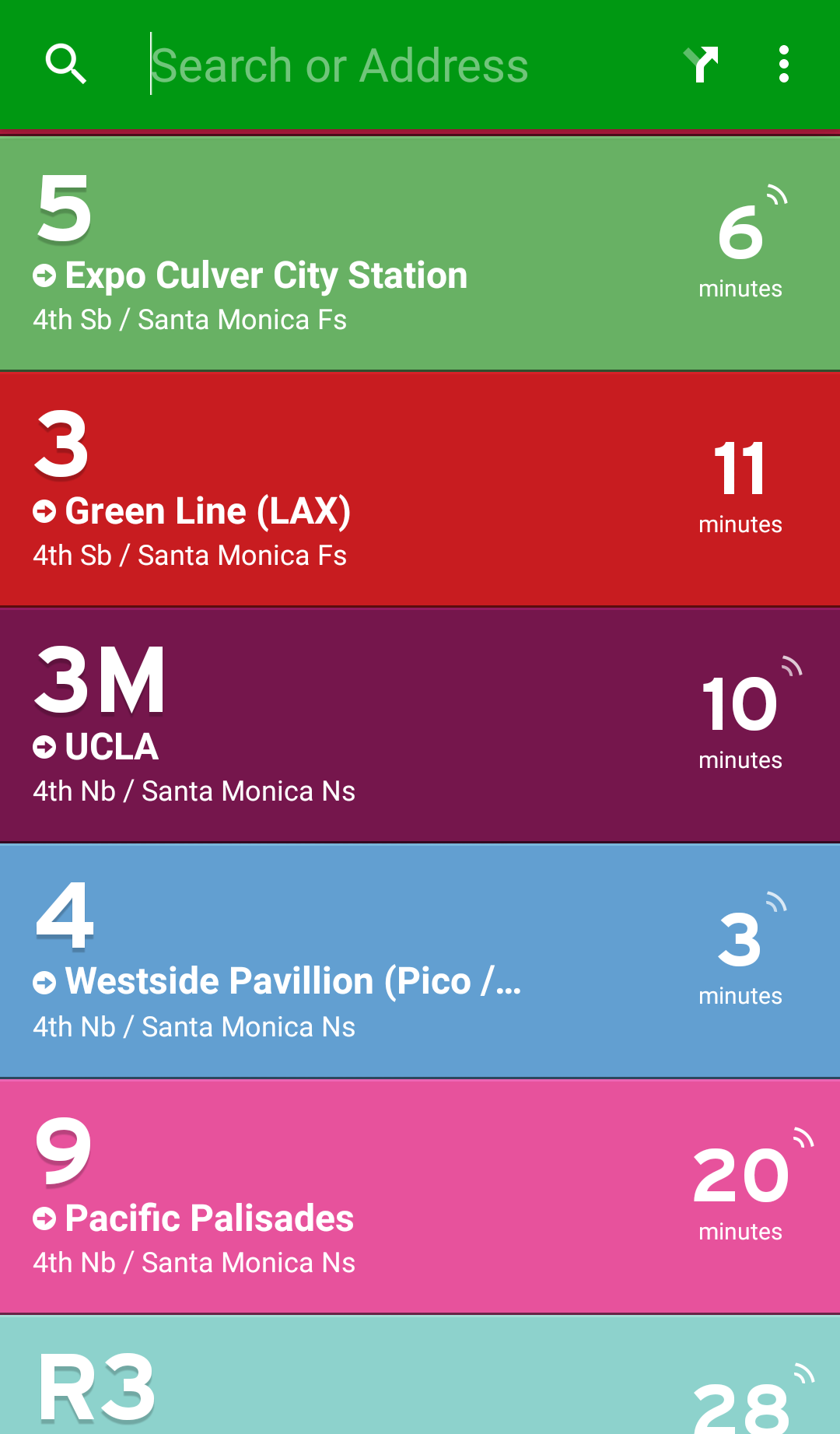 Big Blue Bus commuters, rejoice! The days of standing in the middle of the street and squinting in hopes that you might see a blue spot on the horizon are over.
Since June 5, real-time arrival information has been available on your computers and your phones. The Big Blue Bus opened its General Transit Feed Specification-realtime (GTFS-rt) to the public at Saturday's Hack the Beach event.
While certain bus stops around the city are already equipped with real-time arrival info displays, now you can can see when your next bus is coming on Google Maps, Transit App, Citymapper, and Moovit. If you haven't tried it yet, we highly recommend you do; it's liberating.
"Our customers have been asking for an app which provides real-time bus arrival information for quite some time. We believed this would be very useful information for our customers and worked toward bringing this to fruition," said Suja Lowenthal, Big Blue Bus' government and community relations manager, in an email to Santa Monica Next Wednesday.
"Last fall, BBB decided to pursue opening its information through the GTFS-realtime standard, and to engage with NextBus, which provides real-time bus arrival predictions," she said.
This is just the beginning. Now that the information is publicly available, it's only a matter of time before it gets integrated into NextBus and other third party transit apps.
"We announced, previously, that we aimed to make NextBus available to customers by late summer 2015," Lowenthal said. "We are on track to make NextBus information available sooner –  July 2015."
Access to real-time information, Lowenthal expects, will make the Big Blue Bus experience smoother for riders.
"BBB's move to open its data, specifically real-time bus arrival information and timely service alerts empowers customers to make decisions about their travel," she said.
"In particular, what we know from our customers – and validated in the research on travel behavior – is that the wait at the bus stop for a bus can be more difficult than the ride itself. Part of that stems from the uncertainty of waiting for a bus. Amongst riders without access to real-time information, what researchers have found is that their perception of their wait time for a bus is far greater than their actual wait time – up to 50% longer," Lowenthal said.
"That wait time – perceived and actual – figures prominently in our customers' satisfaction and of transit as a viable, attractive mode of transportation overall. Making real-time bus arrival information available isn't just good for our customers, it's good for everyone," she said.
Hack the Beach
At Saturday's Hack the Beach event, more than 50 tech developers showed up for an introduction to several new datasets released by the city, including Big Blue Bus GTFS-rt, as part of the the National Day of Civic Hacking.
At the meeting, the city also opened datasets for citywide water consumption, real-time parking availability, and Fire Department calls for service so that third-party app developers could use them.
"We are excited to see the local developer community come together to build a partnership with us," said City Web Development Manager Behrang Abadi.
"Our goal is for the private sector to use data that we already produce and make something new, exciting, and valuable," he said.
Santa Monica's Award-Winning Open Data Initiative
The Big Blue Bus' GTFS-rt is just the most recent addition to the city's growing open data portal, which launched in September 2014.
Since then, Santa Monica's open data initiative has drawn recognition from the Public Technology Institute (PTI), which awarded the city for "Transparency, Collaboration and Third Party Applications Through Open Data," according to a statement issued by city officials Tuesday.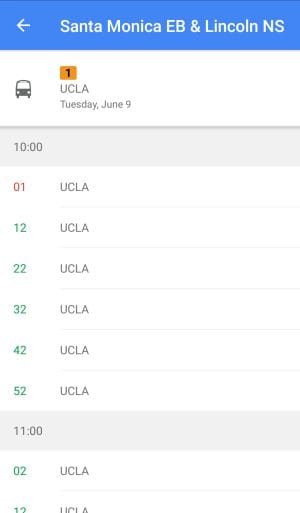 The city's open data portal was recently ranked number 38 in the 2015 InformationWeek Elite 100, "a list of the top business technology innovators in the United States," city officials said. "One of only a handful of local governments in the ranking, this designation groups Santa Monica with the very best in the country at developing practical and measurable uses for technology that drive real business value," officials said.
Currently, the city's open data portal ranks number 17 in the U.S. City Open Data Census, a partnership of Code for America, the Sunlight Foundation, and Open Knowledge Foundation, according to officials.
"This is public data and these portals make our data available to the public in an easy to access manner," said Jory Wolf, Santa Monica's chief information officer. "We also expect to derive a side benefit when software developers use our data to create apps for public use."
Aside from the recently-added Big Blue Bus data, the open data portal allows people to see police and fire calls for service, what type of trees are planted in their neighborhoods, and pending construction building and safety permits, just to name a few.
The open data portal, aside from being a place where public information can be easily retrieved, also gives users a chance to organize the data in ways that are convenient and comprehensible to themselves and others.