Santa Monica is at the center of a tech revolution. Hundreds of startups are based in the city, part of the Westside of L.A. County that has been dubbed "Silicon Beach."
Our new weekly Tech Tuesday feature will introduce you to some of the cutting-edge tech startups cropping up in our back yard. This week, we chatted with Panjo.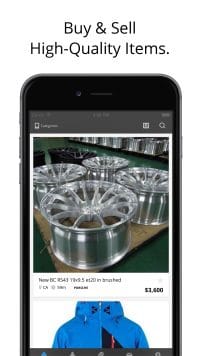 What does Panjo do?
Panjo puts the fun back in buying and selling. Panjo is a peer-to-peer marketplace for auto, sport, and hobby enthusiasts. The world's subject matter experts in categories like BMW, Audi, Porsche, RC, fishing, watches, sneakers, men's grooming, camping, surfing, and snowboarding connect via Panjo to buy and sell parts and accessories.
How did you come up with the idea?
Panjo's CEO is a hybrid car enthusiast. Panjo's head of product is into computer hardware. We bonded over our frustration with the buy/sell experience in existing online communities for our passions and hobbies. We thought there had to be a way to browse, discover, and buy that was easier, more secure, and less frustrating than the experience we were having before launching Panjo.
Why did your company locate in Santa Monica?
Santa Monica can be an asset in recruiting. Top talent wants to work in a beautiful city by the sea with lots of amenities. Santa Monica is home to a lot of great companies and individuals. It is helpful to be able to schedule a conversation with an investor, a mentor, or fellow entrepreneur and to walk five minutes to the meeting. Admittedly, as we have grown and moved offices, we have contemplated moving to less expensive parts of town. However, we continue to place a lot of value in the amenities that Santa Monica offers our team throughout the day. From gyms to never-ending lunch venues, the local business community provides our team with environmental benefits.
What's the biggest challenge your company is facing?
Venture-backed technology start-ups need to grow at rapid rates. A tech start-up can always be growing faster. As a peer-to-peer marketplace our biggest hurdle to growth is the rate at which we can add supply and demand in equilibrium.
How could the city of Santa Monica help your company thrive?
Through tax and development policy, it is imperative for Santa Monica to help reduce the G&A (general and administrative) costs of doing business. Santa Monica also needs to invest in reducing the morning inbound and evening outbound gridlock that residents and commuters face. It is growing increasingly cost prohibitive to operate in Santa Monica. Office rents, parking expenses, and commute times are negative environmental pressures on operating a technology start-up in the city. When we next outgrow our current office at 5th and Santa Monica Blvd, we will once again need to consider if the cost savings of moving to another tech cluster like Playa Vista, Culver City, or downtown outweigh the benefits that Santa Monica affords. At present, Panjo's associates walk, bike, use mass transit, and drive 2, 3, 4, 5, 7, 8, 9, 11, 13, 14, 19, and 44 miles respectively to get to the office.
Where do you see your company in a year?
In one year you will have bought and sold more than one item via the Panjo iOS app and had a spectacular, fun, and memorable experience doing so.