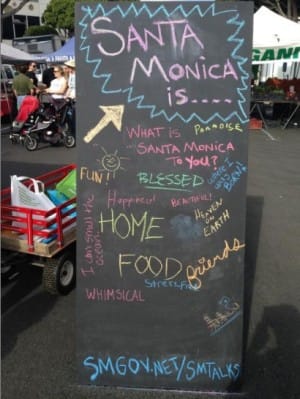 "Living the Santa Monica Life" is a weekly roundup of all the local fun, food, drinks, and lifestyle goings-on in Santa Monica. When the fun is so close, it's easy to leave the car at home and walk, bike, or bus to all the exciting stuff our city has to offer. Isn't that why we love it here?
Los Angeles Magazine reports it's California king salmon season at the Santa Monica Farmers' Market. Look for the Wild Local Seafood stall now through August for fresh-caught bounty.
If you prefer things on the sweeter side, check out Santa Monica's newest gelateria at 2400 Main Street. Buy Local Santa Monica tells us that Dolcerna Gelato will celebrate its grand opening on Saturday, May 9. Head by after you visit the Santa Monica Festival for a fresh-made sweets for the whole family.
There's another new kid on the block. Ingo's Tasty Diner, brought to you by the same crew behind the Misfit in Downtown Santa Monica, opened last month in the old Callahans location at 11th and Wilshire, according to LA Eater. Ingo's offers a farm-to-fork menu inspired by classic diner fare as well as craft beer on tap. The new diner still evokes a mid-century style, "complete with black and white artwork and lots of countertop seating," according to LA Eater.
Are organic juices more your scene? Don't worry. There's something for you, too. Santa Monica Centric reports that the juices are flowing at The Hive Santa Monica (606 Broadway). Boasting a menu of dozens of juices, smoothies, and types of kombucha, The Hive has everything for the healthy-minded. And they use honey quite liberally, as their name suggests.
Are you in the market for some new sun glasses? Summer is right around the corner, after all. TOMS has a new pop up store in Santa Monica's Viceroy Hotel through May, according to L.A. Racked, in honor of the socially-conscious company's new Traveler line of sunglasses.
Have you got a tip for Living the Santa Monica Life? Send them to editor@santamonicanext.org.