Coming up in Santa Monica, we have a special Valentine's Day Kidical Mass bike ride, a retreat on affordable housing hosted by the Housing Commission, and the Santa Monica Chamber of Commerce's Organization of Women Leaders (OWL) will honor two local leaders at its 2015 Women's Day Breakfast.
Kidical Mass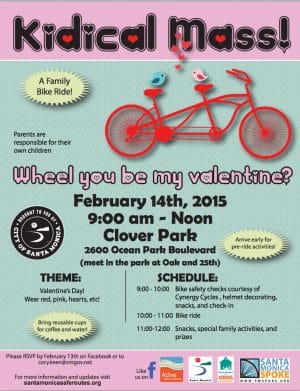 Grab your bikes and your kids and head down to Clover Park for a special "Wheel you be my Valentine?" edition of Kidical Mass, the family-friendly group bike ride, on February 14 at 9 a.m. Kidical Mass is co-sponsored by Santa Monica Spoke, the City of Santa Monica, Safe Routes to School, and Active Santa Monica.
As usual, there will be prizes for best costume, as well as snacks and special family activities.
"We're trying to introduce families to the benefits and possibilities of a healthy, active lifestyle while really focusing on the fun aspects," said Cynthia Rose, director of Santa Monica Spoke.
The "Wheel you be my Valentine?" ride is only the most recent of themed family rides. Kidical Mass has also featured a super hero-themed ride, which families were encouraged to dress up like their favorite super heroes. There was also a Halloween ride, a 4th of July ride, and an Earth Day ride, during which kids got a chance to play with ladybugs.
On Saturday, check-in, bike safety checks, helmet decorating, and snacks start at 9 a.m. The ride starts at 10 a.m. and more snacks, prizes, and special family fun is scheduled for 11 a.m. to 12 p.m. If you plan on joining the ride on February 14, RSVP to cory.keen@smgov.net by February 13. For more information, visit santamonicasaferoutes.org.
Affordable Housing Retreat
Santa Monica, like the rest of the region, is experiencing a historic housing crisis that is driving up prices and forcing working and middle-class families out of town.
With that in mind, Santa Monica's Housing Commission, the appointed body that advises the City Council on all issues related to housing, will hold its annual retreat on February 14 from 10 a.m. to 1 p.m.
At the retreat, which will be in the Multipurpose Room at the Main Branch of the Santa Monica public library, the Commission "will formulate its priorities and direction for 2015," according to the city's website. The meeting is open to the public and input is welcome.
For more information, contact the City of Santa Monica Housing Division at (310) 458-8702 or visit www.smgov.net/housing.
Chamber's OWL Breakfast
The Santa Monica Chamber of Commerce will honor two female leaders next month at its Organization of Women Leaders (OWL) breakfast for International Women's Day.
"The annual breakfast gathers professionals from throughout the community to network and celebrate women leaders in the Santa Monica community," according to Chamber officials. "This year's event will honor authors Denita Willoughby and Mallika Chopra with the Chamber's 'Owlie Award' for enhancing women's lives everywhere through inspirational storytelling."
Willoughby is vice president of Supply Management and Logistics for Southern California Gas Co. (SoCalGas) and San Diego Gas & Electric Company (SDG&E). Chopra is a local mom, entrepreneur, and published author. She is the founder of Intent.com, a website focused on personal, social, and global wellness.
The breakfast is on Monday, March 2nd from 7 a.m. to 9:00 a.m. at the Le Meridien Delfina (530 Pico Blvd. Santa Monica, CA.)
Tickets are $50.00 for Chamber Members and $65.00 for non-members. Visit www.smchamber.com/owl for more information.