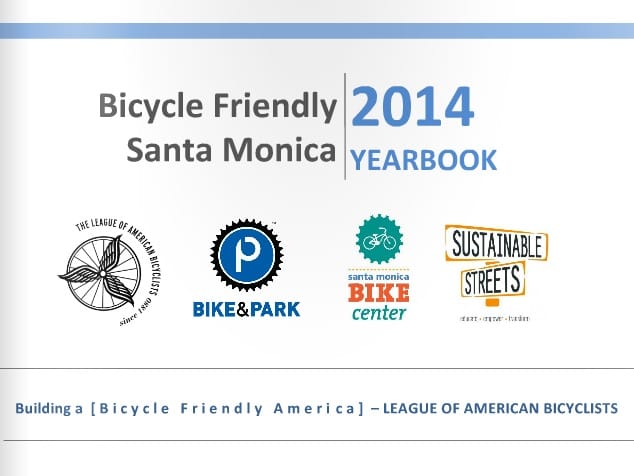 The Santa Monica Bike Center wants to help local businesses achieve Bicycle Friendly Business designation from the national League of American Bicyclists.
With the next application deadline this January, the Santa Monica Bike Center — which is one of 17 Bike Friendly Businesses in the country with a platinum rating — wants to help other local businesses earn the title of Bike Friendly Business.
"The vision for a bicycle friendly Santa Monica will not be realized without the participation of local businesses," according to the Santa Monica Bike Center website. "If you own or work at a business in Santa Monica please contact us to find out how to get involved in this exciting program. We seek businesses from all seven Business Improvement Districts (BID) in Santa Monica, our goal is for at least 25% of businesses in each BID to become certified as a Bicycle Friendly Business."
It's a simple, four-step application process and Bike Center consultants are there to help along the way, according to the Bike Center's website. Any business with two or more employees is eligible.
What are some of the perks? Aside from the obvious benefits of reducing employee driving, promoting a healthier, more active workforce, and promoting an environmental sustainability, there's the publicity.
This year, the Bike Center put together a yearbook highlighting the local participants in the Bike Friendly Business program, including City Hall, which is a Gold Bike Friendly Business.
In 2014, Santa Monica was home to half a dozen Bike Friendly Businesses, a number the Bike Center hopes to see increase in 2015.
"The Bike Friendly America program has widespread application in any community, and we are continually searching for unique ways to engage our local businesses with the program," a description of the program in the yearbook reads.
"The Santa Monica program aims to identify, certify, and assist local businesses that may be eligible for the Bicycle Friendly Business designation," it reads.
For more information, call the Bike Center at (323) 642-6826 or send an email to outreach@smbikecenter.com