Writers Boot Camp Gallery at Bergamot Station will host an upcoming exhibition exploring what Santa Monica's airport could become, if it were repurposed into public open space.
On Thursday, October 23 from 6 to 9 p.m., students at the USC Landscape Architecture program will display their visions for the 227-acre City-owned airport in an exhibition called "Reimagining Santa Monica Airport – Part 1," a project three months in the making.
"Very few people have actually seen the potential beauty and space that is currently fenced and covered with asphalt on the Santa Monica airport property," said Loyola Marymount Professor Michael Brodsky, who curated the exhibition. "This site has such great potential for a park with spectacular views of the Pacific Ocean, Hollywood Hills and the Santa Monica Mountains that are currently only seen by the very few people that use it now."
The exhibition comes less than two weeks before voters go to the polls to vote on Measure LC, a City-sponsored ballot initiative that would keep airport management under local control. The City Council put Measure LC on the ballot after the Aircraft Owners and Pilots Association (AOPA) placed its own initiative on the ballot through a questionable signature gathering process. Measure D, which is supported by national aviation interests, would make it impossible for the City to make even the smallest changes at the airport, including banning leaded fuel sales or raising rents for businesses, without putting it on a ballot. (Full disclosure: Santa Monica Next has endorsed a yes vote on Measure LC and a no vote on Measure D.)
Brodsky is part of a local advocacy group called Airport2Park, which has promoted eventually closing the century-old airport and converting the land into a massive park. Airport2Park is sponsoring the exhibition.
"I feel that once people see this exhibition of talented graduate landscape architecture students, they will view the Santa Monica Airport site in an entirely new context; as one that can serve many more people in a variety of creative, healthy and sustainable ways than is currently served by the present industrial use," Brodsky said.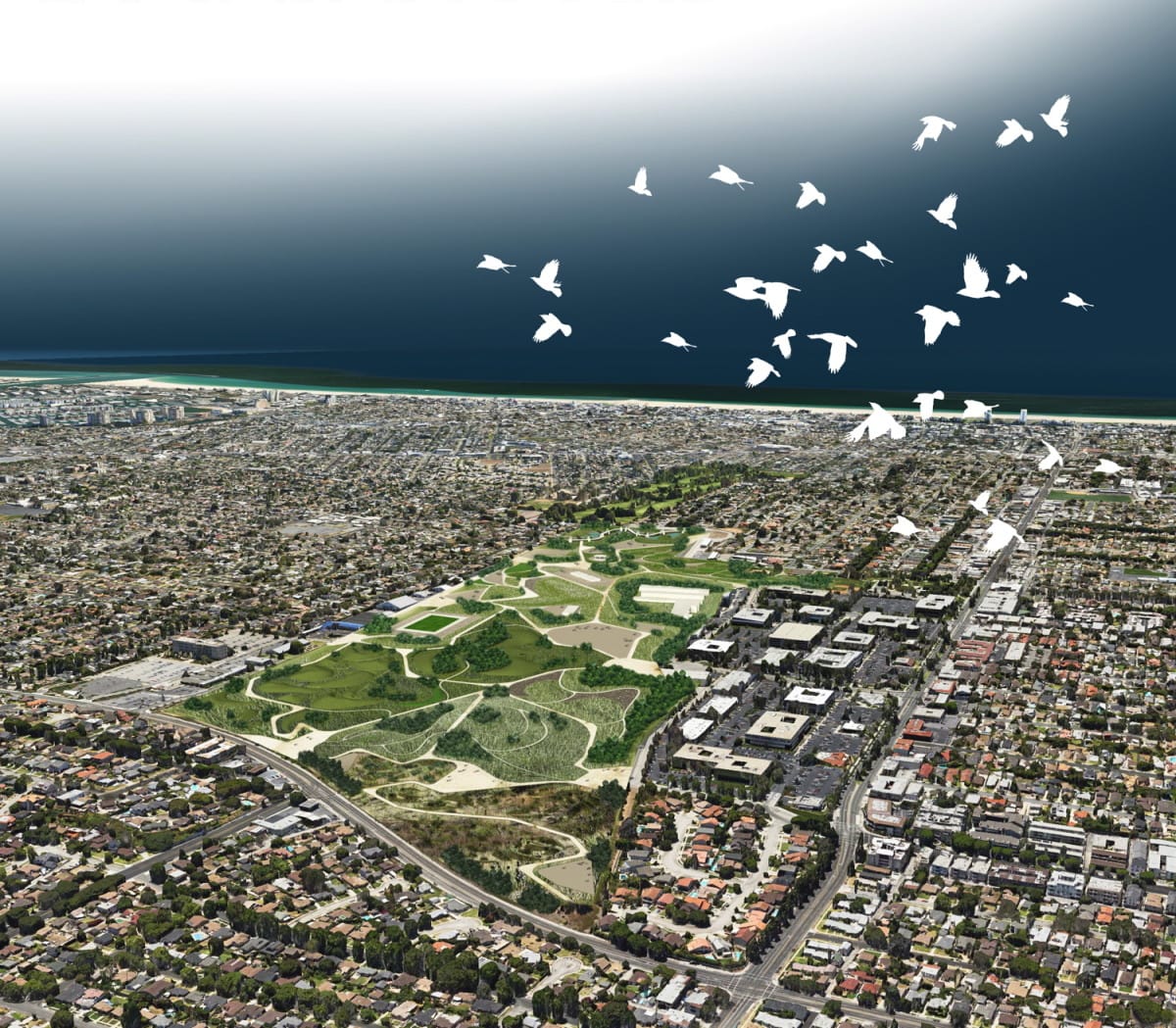 The project was directed by USC Professor and Landscape Architect Aroussiak Gabrielian and will include work by USC grad students Christopher Sison, Chen Liu, Zeek Magallanes, and Yongdan Chunyu.
The exhibition takes place at the Writers Boot Camp Gallery, Bergamot Station #1, 2525 Michigan Avenue, for one night only. Car pooling is encouraged and bicycle valet will be provided by Santa Monica Spoke. For additional information, visit airport2park.org.