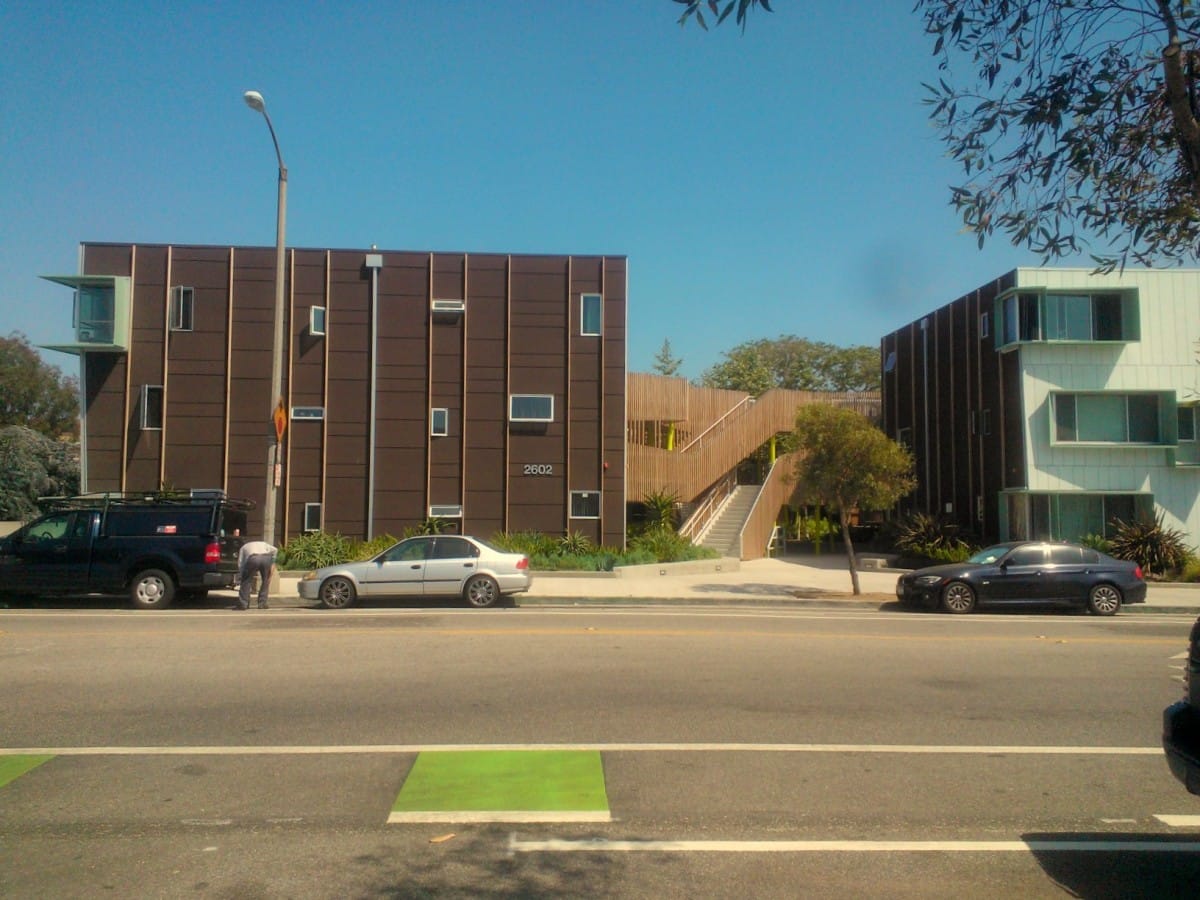 Santa Monica, like its neighboring cities, is currently in the midst of an unprecedented housing affordability crisis. Rising rents and stagnant wages are putting unsustainable financial strain on working families. Santa Monica, in an effort to help create more permanent affordable homes in town, will look to the voters this November.
Santa Monica Next urges you to vote Yes on H and HH, two ballot measures that together will raise as much as $10 million a year to support the preservation — and new construction — of housing that will remain permanently within the reach of working families, young people starting off careers, and others who cannot afford the skyrocketing rents in the desirable beachside city.
As a nonprofit concerned with the idea that streets must be used for more than flushing cars through neighborhoods as fast as possible, it might seem odd for us to weigh in on housing measures.
We support comprehensive, integrated transportation and land use policies in support of livable streets. We support housing policy that allows more people to walk or bike to work or errands as we refocus our streets from conduits of traffic, noise, and pollution to the center of livable communities.
Santa Monica's housing crisis is a major cause for the rush hour traffic that turns the I-10 into a parking lot for hours everyday as many of the people that work in the more than quarter million jobs don't live or can't afford to live in the idyllic city of 90,000 residents.
Measures H and HH will help solve part of Santa Monica's housing problem.
At our forum with the League of Women Voters of Santa Monica, Councilmember Kevin McKeown was one of several candidates, including Santa Monica Mayor Pam O'Connor, who vocally supported Measures H and HH as a tool that would allow the City to create much-needed housing for young and old alike.
"We need to produce more affordable housing in this town," McKeown said at the forum. "I'll go back to Measures H and HH as one of the solutions."
McKeown, along with O'Connor and Councilmembers Tony Vazquez, Ted Winterer, and Gleam Davis, all voted to place the two measures on the November ballot at a City Council meeting in early July.
A "yes" vote on Measure H would mean a slight increase in Santa Monica's property transfer tax. Currently, the City levies a $3 fee for every $1,000 of assessed value on a property when it changes hands. Measure H would raise that fee to $9 for every $1,000 of assessed value on properties which sells for more than $1 million. Measure HH is a companion measure, advising that the money generated by Measure H be spent exclusively on affordable housing preservation and construction.
While Santa Monica currently is experiencing record high market-rate rents, the City has been fiercely committed to maintaining economic diversity among those living here. For the past two decades, the City had allocated about $15 million a year to fund nonprofit affordable housing developers, either to build new housing or to buy existing buildings and rehab them.
In 2012, Santa Monica — and about 400 other cities throughout the state — lost that revenue stream when California axed redevelopment agencies. Since then, Santa Monica's affordable housing funding has dwindled to nearly nothing, leaving the City almost entirely dependent on private developers who either build subsidized rental units as part of market-rate projects or pay the City's "in-lieu" fee.
A "yes" vote on H and HH would give the City the means necessary to make sure Santa Monica isn't exclusively dependent on for-profit developers to construct new affordable housing or maintain the existing stock. It would also create a reliable, local funding source, which would give nonprofit developers more leverage when applying for state and federal funding.
As Cap-and-Trade funds become available from Sacramento for affordable transit-oriented housing production, Measures H and HH will give Santa Monica's nonprofit housing developers a leg up in competing for funding. Building jobs and homes — at a range of affordability levels — next to transit corridors has shown to be an effective method of fighting global warming by reducing traffic and the greenhouse gas emissions that go along with it.
Opponents of these measures have argued it would lead to "overdevelopment" of Santa Monica and that it would put an untenable financial burden on homeowners looking to sell their properties.
We believe, however, that the ramifications of new housing, especially that which is priced at levels that are affordable to the people who currently work in Santa Monica, would actually increase the quality of life in Santa Monica by encouraging more liveable streets, reducing traffic, and increasing public transit ridership.
Also, we believe the increase to the property transfer tax proposed in Measure H is a reasonable one. Unlike a bond measure, which would increase property taxes overall, individuals would only pay this new tax when their property changes hands. For many, that is an infrequent occurrence. And, then Measure H only applies if the property is valued at more than $1 million.
That is why Santa Monica Next urges you to vote Yes on Measures H and HH.
(As a publication of the 501c(3) public charity Southern California Streets Initiative, Santa Monica Next cannot make candidate endorsements. However, we can endorse or oppose ballot initiatives provided we do not spend too much time or money on political issues.- DN)