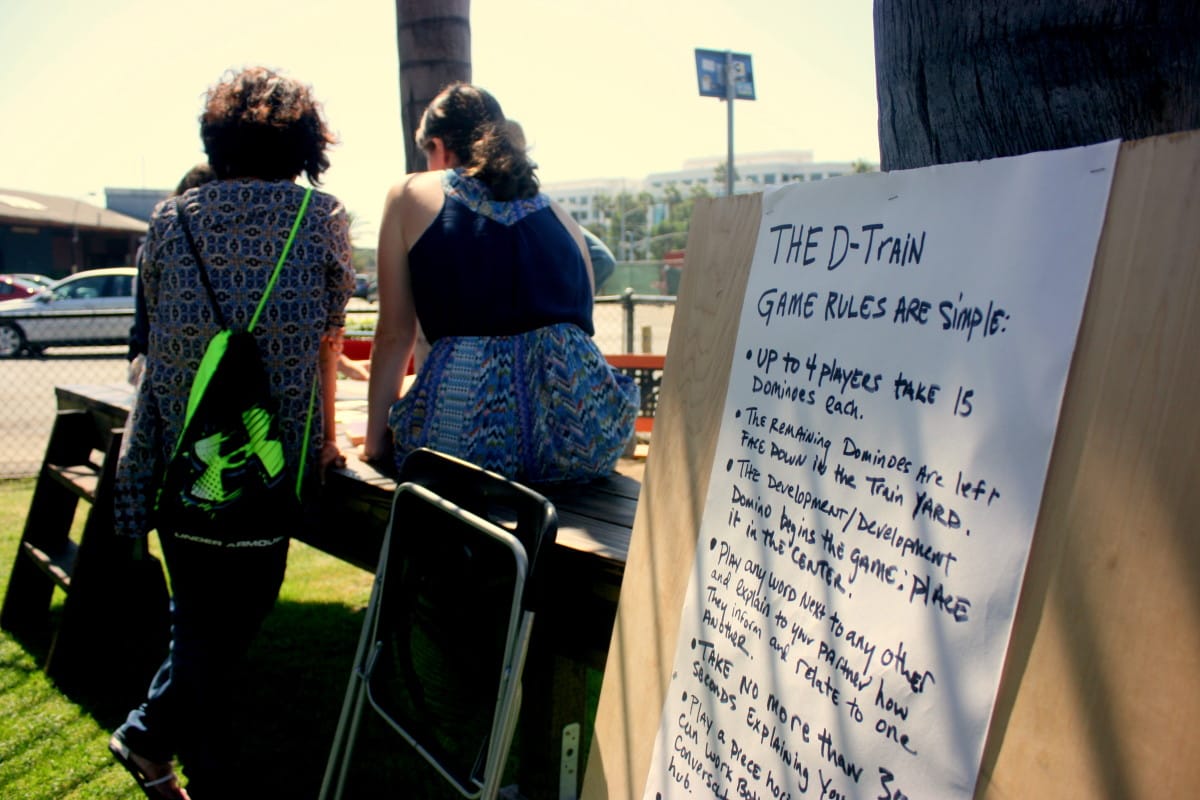 With election season in full swing, the community discussion about development and the future of Santa Monica has gotten more hostile than usual.
At a candidate forum put on by a local anti-development group Monday, peace activist and perennial Council candidate Jerry Rubin, who turned 70 this year, was fiercely booed after praising City staff's work.
But some are trying to change the way people talk about Santa Monica's future.
On Saturday, Santa Monica Museum of Art, in partnership with Missouri-based artist Sean Starowitz, hosted "The D-Train," a game meant to inspire productive dialogue about the controversial topic of development.
"It's a little confusing, but once you start playing, it's just a discussion," said SMMoA volunteer Rosa Palermo.
About a dozen people huddled in groups of four or five, arranging cards on the three wooden platforms in People Park in Bergamot Station Arts Center's parking lot.
On the cards were hot-button phrases like "NIMBY," "gentrification," and "displacement."
Like in a game of dominoes, someone plays a card – or tile – and the next player has to play a card that matches one of the words on the card played by the previous player, creating a train of interrelated words.
But, in this game, players did not have to literally match the words, but instead put words together they believed belonged together while offering an explanation as to why they played the word.
For example, one player named Julia played the phrase "rent gap" off of a previous player's card that read "change."
"It's important to keep the rents diverse so it's a neighborhood for everybody," she said, explaining why she matched the cards.
Other players matched "development" with "imagination" and "gentrification" with "expensive." Another player played "property" off of a tile that said "public access."
She explained that she played that card in reference to the proposed Bergamot Arts Center revitalization plan to "develop the space so it's more welcoming and more people can assemble."
For the six-acre plot of City-owned land directly adjacent to the 26th Street Expo station, the City Council will choose one of three teams of private developers competing to invest tens of millions of dollars in the property to preserve the current galleries while adding more open space, a union hotel, and a new museum space.
While there were many conversations, there was no booing or yelling at Saturday's event.
"I'm really pleased with the outcome of Saturday's game session. We had a nice mix of individuals—students, local Santa Monicans, our museum director, a board member, urban planners, artists, visitors…and the premise of the game facilitated socialization," said Asuka Hisa, SMMoA's director of education and public programs.
"Some game sessions had vigorous debate and some were simply amiable discussions. All were great ways to air out one's thoughts and learn from each other at the same time," she said.
Starowitz echoed Hisa's sentiments.
"Overall, I was very pleased with the outcome of the program, actually overwhelmed. I was so interested in the conversations and thoughts that people were bringing to the table, so to speak," he said.