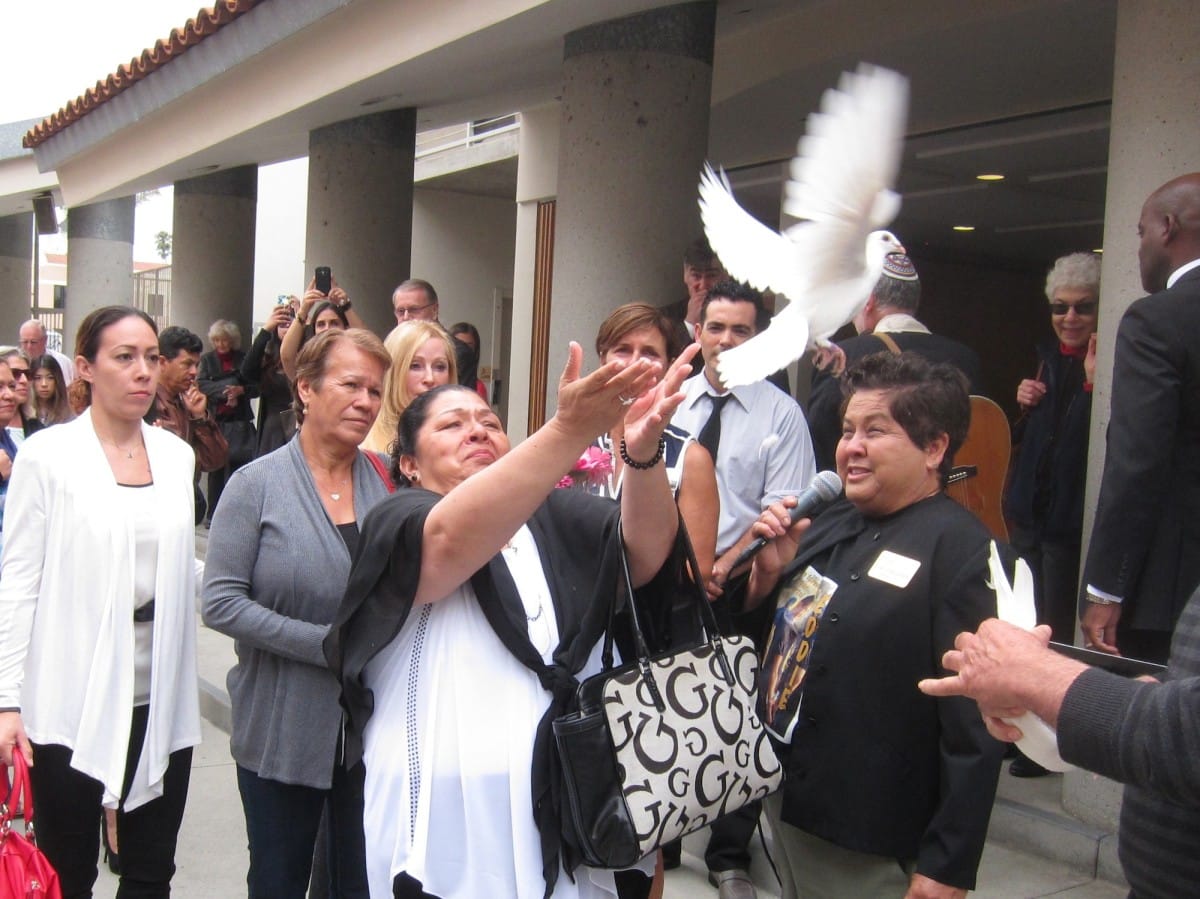 One by one they walked to the front of the gathering in Santa Monica to ring a bell and say a name. The names they called out were family and friends who have been killed by gun violence.
The bell-ringing ceremony was a solemn and emotional beginning to an interfaith service held in Santa Monica at Saint Monica Catholic Church Saturday to commemorate the one-year anniversary of a mass shooting that killed six people in the city last June 7.
[pullquote align=right]
"We are in need of healing. We are in need of remembering. And we are in need of making a change in the world." – Monsignor Llyod Torgerson
[/pullquote]
The killings began on Yorkshire Avenue in Santa Monica where John Zawahri killed his father and brother. He then set their house on fire, car-jacked a vehicle and injured four others as he made his way to Santa Monica College.
On the campus, Zawahri killed three more people, including the college's groundskeeper, Carlos Franco, and his daughter, Marcela Franco. Carlos had just taken his daughter, training to be a clinical psychologist, to the campus bookstore to buy texts for her upcoming summer class at SMC. Also killed at the college was Margarita Gomez, often seen on campus collecting recycling to help pay her bills.
The shooter was killed by police after he entered the college's library and fired at students who were studying for final exams.
Saturday's event was attended by about 200 community leaders and members and included family and friends of those killed in last year's violence.
Monsignor Lloyd Torgerson introduced the service, which was held in an outdoor courtyard.
"We are in need of healing. We are in need of remembering," Torgerson told the crowd. "And we are in need of making a change in the world."
Also leading the service were Rabbi Neil Comess-Daniels of Beth Shir Shalom  and Pastor Ruett Foster of Community Bible Church.
Foster told a harrowing story of losing his own son to gun violence when his wife had taken him to a park to pick up a soccer trophy in 1997. He became an innocent victim caught in a gang-related shooting.
"It's a horrific thing that happens. Life is so precious," Foster told the gathering. Foster said that he often goes to youth correctional facilities around the state with his wife and at one event they met the son of the person who had killed their own son. They talked with the youth, and then told him they forgave him.
"It broke him to the point that when he gets out of prison, he wants to come to my church. And he wants to serve me if I let him," Foster said.
At the end of the event, several people released doves in the name of family and friends killed by gun violence. One of those was Ramona Franco, who lost her husband and daughter in last year's shooting.
"I haven't had a chance to get together with other victims like this because I was grieving and I didn't want to show my emotions," Franco said in an interview after the event. " I still feel sad. It's always hard."
The service was also a call to action on gun violence as those gathered were asked to sign a petition in support of state senate bill 53, which would require that sellers of ammunition be licensed by the state and also require background checks on people buying ammunition.
State senator Ted Lieu, who attended the event, supports the bill. Lieu is running for Congress to replace the House seat just vacated by Henry Waxman.
"You have to get a license to hunt, so I don't see why you shouldn't have more regulation on people who sell vast amounts of ammunition," he said. "It makes perfect sense to me."
Suzanne Verge, president of the local chapter of the Brady Campaign to Prevent Gun Violence, said that Saturday's event was about healing, but also bringing attention to the political movement for more gun control in America.
"I think people are paying attention. As you see today, so many people are impacted. There are too many of us," she said.
Verge lost her brother to gun violence in 1978 when he shot and killed in Santa Monica when he was 18 years old.
"You don't get over it," she said in an interview. "What is it? Thirty-five years, and here I am. It's still very painful."