Much noise has been made around urban planning in Santa Monica in recent months. A growing regional population, a burgeoning public transit system, increasing demand for shared streets, and an overall change in how we think about urban spaces have all influenced how city planners create the future of Santa Monica and the region.
Still, there are some who insist that we not make any changes to the way we think about urban planning. In Santa Monica, some have insisted that the city's 30-year-old height and density limits should not be adjusted to accommodate the inevitable growth that accompanies successful cities.
But some of Santa Monica's most beloved cultural institutions would not exist today if they had been held to the same rigid standards as some hope to apply to all projects currently in the planning pipeline. So, we are asking you to tell us, how would you design these buildings today?
The Huntley Hotel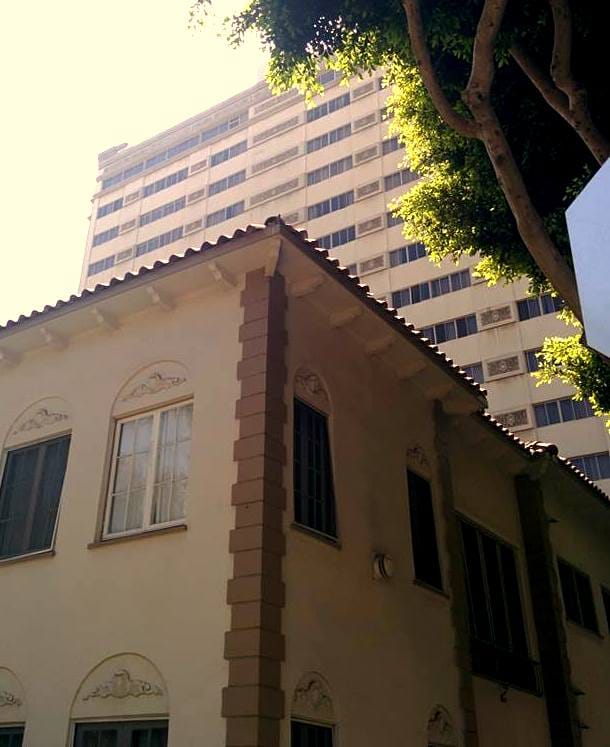 Built in 1965, the Radisson Huntley Hotel sits near the western edge of Santa Monica's well-to-do Wilmont Neighborhood.
Surrounded mostly by smaller apartment and condo buildings, the 17-story (160-foot) non-union luxury hotel, which underwent a renovation in 2001, would certainly cause a lot of controversy if a developer sought to build it, as is, today, given that the city's 1984 general plan caps heights at 84 feet.
The building is also pretty dense, with an 8.25 FAR, which is the ratio of square footage of building floor area to the area of the site.
The Huntley has been actively stoking anti-development sentiment ever since its neighbor to the west, the Miramar Hotel, announced its intention to redevelop by replacing a 50-year-old 12-story tower with a 20-story one, with an FAR of about 3.
The Huntley was the single largest financial backer of the anti-development group, Residocracy, that killed plans for the 765,000 square-foot Bergamot Transit Village, which would have put office space, retail, and about 500 apartments near the future site of the 26th Street Expo light rail station, on the other side of town from the Huntley.
The Bergamot Transit Village would have had an FAR of 2.5 and would have been peaked at 86 feet tall. The argument against that project was that it was too large and therefore out of scope with the surrounding neighborhood.
The same anti-development activists recently turned out against plans for a 148-foot project by Rem Koolhaas' firm OMA on City-owned land near to the Huntley, again arguing that the building is too big for Santa Monica. The Koolhaas project, by comparison to the Huntely, would have a 3.75 FAR.
Given the Huntley's interest in urban planning, we want to ask you: how would you design this hotel today?