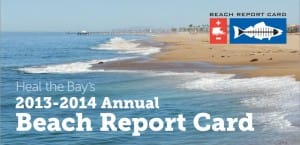 After several years of recovery, the ocean immediately around Santa Monica Pier is back on Heal the Bay's 10 most polluted beaches in California, joining two others in L.A. County.
The nonprofit, which gives the beaches in California letter grades based on water quality, released its annual Beach Report Card today and Santa Monica Municipal Pier ended up with an F, along with Marina del Rey Mother's Beach and Cabrillo Beach harborside.
"The Santa Monica Pier has a long history of chronic beach pollution and is back on the Beach Bummer list at No. 7," according to the report.
In part due to Measure V, passed by voters in 2006 to fund urban runoff treatment programs, the Pier saw its water quality improve significantly in 2010, earning its first-ever "A" grade from Heal the Bay.
"Projects included the repair of a corroded and leaky storm drain, the redirection of stormwater runoff to the Santa Monica Urban Run-off Recycling Facility (SMURF), and the installation of bird netting under the pier to prevent pigeons and other birds from nesting and contributing fecal bacteria to the beach water," the report said.
However, since 2012, the water quality in the area has dropped, first to a B rating, then a D rating in 2013.
The report mentions that Santa Monica is undertaking a number of projects that will, hopefully, improve the water quality in the area.
There is the Marine Park Irrigation Retrofit project, "A pipeline will transport urban runoff being captured at Los Angeles' Penmar Park to Santa Monica's Marine Park for irrigation."
There is also the Los Amigos Park Retrofit project, which "will divert runoff from an adjacent storm drain into a subterranean tank in Los Amigos Park for treatment" and storage, to be used later for irrigation and toilet flushing.
Pier Basin Infiltration project will "divert wet weather runoff to a subterranean tank which would overflow into an infiltration gallery," the report said. "The retained water would be pumped to SMURRF for treatment."
Finally, the Ozone Park Retrofit project would divert, treat and then use for irrigation runoff from Ozone Park.