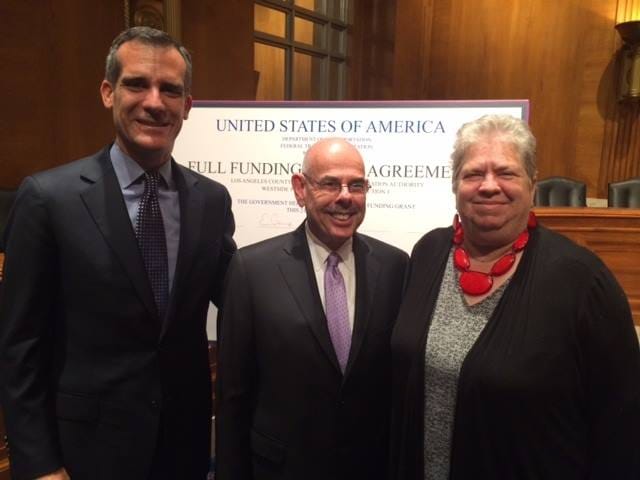 Santa Monica Mayor Pam O'Connor, who represents the seaside city and the Southbay on the Metro Board of Directors, joined Metro CEO Art Leahy,fellow Metro Boardmembers, including L.A. Mayor Eric Garcetti, and a handful of other Metro and federal officials in Washington D.C. today to sign a $1.25 billion federal grant for the Purple Line Extension Project.
O'Connor and the other officials also accepted a $856 million low-interest loan to help fund the $2.8 billion project that will extend the subway from its current terminus at Wilshire Boulevard and Western Avenue to La Cienega by 2023.
The rest of the funding – about $821 million – comes from Measure R funds.
"Today we are moving forward with the next generation of transit for our next generation and together are transforming Los Angeles County," O'Connor said in an official statement Wednesday.
She added that as L.A.'s transit options become more diverse, it will help relieve traffic congestion.
The Full Funding Grant Agreement helps pay for the first of the two-phase extension project that will eventually bring the subway to the Veterans Affairs (VA) hospital in Westwood.
"This is taking the subway westward to Santa Monica," she told Next Wednesday. "The closer it gets, the sooner we can bring it all the way to Santa Monica."
More over at Streetsblog.