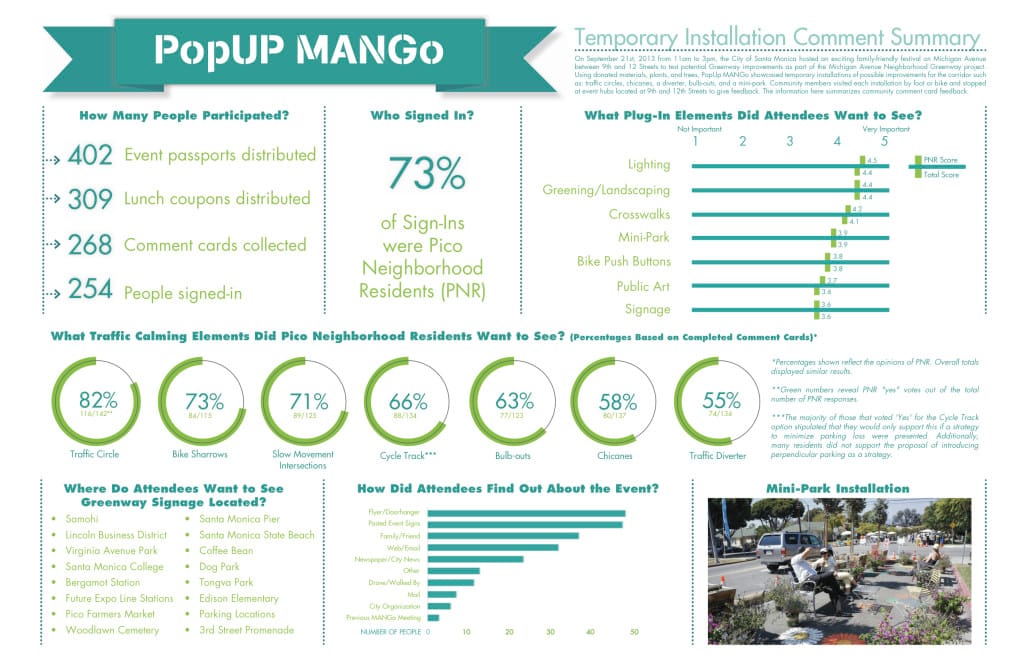 Since mid-2013, the Michigan Avenue Greenway has been gradually progressing down the road from vision to reality, holding numerous workshops in order to receive input from the very people it will benefit. Events such as the Pop-Up MANGo supplemented these meetings by tangibly showcasing the possibilities for Michigan Avenue, particularly focusing on traffic diversion.
Recently, this idea of traffic diversion has created a road block in the project's progression. Backed by their own survey, a group within the Pico Neighborhood Association launched a campaign against the use of any kind of traffic diversion. The inability to use such methods would cripple the project, rendering it less useful to the neighborhood and to the city as a whole. However, the same survey was administered by another Pico Neighborhood resident, a supporter of traffic diversion, and was met with completely opposite data. In the face of conflicting results, the most prudent course of action would be to stick with the results collected at Pop-Up MANGo by the city and the professional consulting team. In the end, it is clear that both the advocates and the protestors of the project would favor the same thing- a long overdue investment in the Pico Neighborhood and a healthier, safer neighborhood street.
After all, who wouldn't want the benefits that the Michigan Avenue Greenway can provide? To begin with, it would create a calmer, more people-friendly street. In doing so, it would reduce the significant congestion caused by cut-through traffic. This would allow adults and children to begin to utilize the street for active transport- walking, skating, running, or biking- without the constant presence of vehicular traffic. Additionally, the new greenway would provide a low-stress, north-south connection between many key areas in Santa Monica, from the Bergamot Station, to the Expo Line, to the many Santa Monica Schools that are on or near Michigan Avenue, to the beach.
In order to make this vision a reality, however, the planners of the project need more input from the public before the project is presented to the City Council on February 11. Your last chance to provide such input will take place tomorrow at the final community meeting.
Who: The City and consultant team will host this last community meeting.
What: This will be a complete review of the concepts and plans for the Michigan Avenue Greenway. You will hear first-hand the benefits it provides for the Pico Neighborhood, connectivity for bikes, and the community at large, and will be able to provide input on its various elements before the project is presented to the Council.
When: Tuesday, January 7, 2014 (7 pm to 8:30 pm)
Where: Virginia Avenue Park, 2200 Virginia Avenue