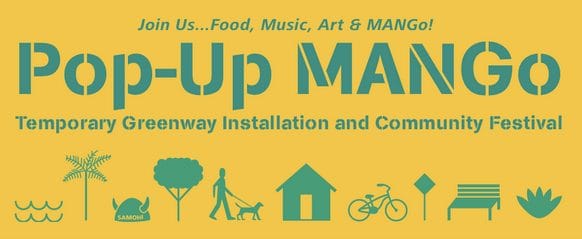 With Phase II of the Expo Line rapidly making its way into Santa Monica, it's clear that we are in need of a safe, low-traffic route to get from the Bergamot area to downtown Santa Monica and the beach. Beyond that, it simply makes sense to have a bike-able north-south route through some of Santa Monica's most frequented areas.
That's where the Michigan Avenue Greenway comes in.
Led by the City of Santa Monica's Strategic and Transportation Planning Division, a consulting team has been working in conjunction with Santa Monica Spoke to turn Michigan Avenue into a neighborhood greenway: "a place where people want to be, a place that is inviting and safe, and provides ample amenities for all users."
A few weeks ago, Gary covered recent updates on the planning process of the Greenway. The central focus of most of the recent meetings has been about which specific traffic-calming solutions to implement. Three primary options have been proposed, including traffic circles, "slow speed intersections," and a cycle-track or protected bikeway facility.
A combination of all three options could be ideal, but they are difficult to judge without actually seeing them in practice. This is why, this coming Saturday, the City of Santa Monica will be hosting a community event that will showcase the various possibilities for Michigan Avenue.
Who: Anyone with an interest in the future of Michigan Avenue and the surrounding neighborhood should attend!
What: The event will feature temporary installations of possible improvements for the corridor such as: traffic calming devices, curb extensions, enhanced landscaping, places for neighbors to gather, and way-finding signage.
Food trucks, music, art, and interactive activities will also be a part of this exciting day. A morning bike tour of the entire potential three-mile Greenway alignment will be hosted by Santa Monica Spoke.
When: Saturday, September 21st, 11 am-3 pm
Where: On Michigan Avenue, between 9th & Euclid
We hope to see you there!