Tour da Arts, the annual summer festival that combines art, music, and dance with community cycling, returns to Bergamot Station for the sixth year running this August.
The Santa Monica Museum of Art (SMMoA) is joining forces with C.I.C.L.E., Santa Monica Spoke, Aika Trading, Perry's Cafe and Rental, Santa Monica Bay Women's Club, L.A. Metro, and about a dozen other community partners for a human-powered cultural tour through the bayside city.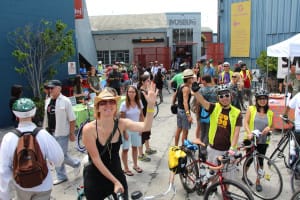 "Experience Santa Monica as a car-free community and learn about the City's bike lanes and other bike-friendly infrastructure from Tour da Arts' ride leaders," according to SMMoA. "Participation is free and open to all ages."
The sixth-annual Tour da Arts kicks off at noon on Sunday, August 24 at the Bergamot Station Arts Center, adjacent to the future Expo Station at Olympic Boulevard and 26th Street.
While participants will get a chance to ride through the streets of Santa Monica, exploring the City's growing network of bike lanes and facilities, the event is more than just a tour.
Last year, Tour da Arts pulled a crowd of more than 300 people who also enjoyed musical and dance performances, bike-churned ice cream, and a number of other fun activities. Click here for more in-depth coverage of last year's event by Gary Kavanagh.
Below is the official 2013 Tour da Arts video.
This year, Santa Monica Next will be out at Tour da Arts, informing people about our Vote Local drive and registering people to vote. We will even have cool little bike stickers, so stop by and say hi.
A complete schedule is available at SMMoA's website. Free bike rentals are available to those who register for the event, but supplies are limited. Since this is a popular event, we recommending registering sooner rather than later if you need to rent bikes.
From SMMoA: "Participation in Tour da Arts, vol. 6 is FREE thanks to our generous sponsors: the City of Santa Monica and the Santa Monica Arts Commission, the Barnwood Foundation, the Eileen Harris Norton Foundation, and the Santa Monica Bike Center."
Other partners include, Bergamot Station Arts Center, LLC., Bikerowave, C.I.C.L.E., City of Santa Monica Water Treatment Program, Cynergy Cycles, Helen's Cycles, John Adams Middle School, Levi's Commuter Workspace, Linus Bikes, Lucy Sportswear, Peddler's Creamery, and Yelp.