On October 27th, a 69-year old local resident was killed by a driver of a vehicle in a traffic collision at 19th St and Idaho Avenue in the Wilmont neighborhood of Santa Monica.  This intersection is one of a handful in the dense Wilmont neighborhood that has a two-way stop rather than an all-way stop.  People have wanted to understand and process what active and passive decisions contribute to someone losing their life to traffic violence. This article addresses two of those questions: 
1) how the city determines the need for an all-way stop, and
2) whether cyclists, pedestrians, and drivers can see oncoming traffic before proceeding into the intersection – which is known as daylighting.
Stop Signs and All-Way Stops
The City of Santa Monica, like all cities, uses a warrant study, as defined by the California Manual on Uniform Traffic Control Devices (MUTCD), to determine whether to construct a four-way stop at an intersection. This example from Santa Clara County shows the criteria cities consider.
Use of the MUTCD is the adopted practice in the US, but has many shortcomings. The North Association of City Transportation Officials (NACTO) says the 11th edition of MUTCD is "riddled with fundamental problems, and hasn't been substantially updated in over half a century." This is problematic, according to NACTO, because "more than 40,000 people die per year on American roads" and pedestrian deaths are at a forty-year high. The City of Santa Monica is a NACTO affiliate member.
While the MUTCD is problematic, it allows city traffic engineers to use their discretion in their use of stop signs. MUTCD does not require a warrant study for a city to implement an all-way stop, it just provides guidance for whether a stop is warranted. Cities are free to place stop signs wherever they wish.
However, the traffic engineering profession discourages the proliferation of stop signs. Traffic engineers have been taught to avoid all-way stops because overuse of unnecessary stop signs can cause drivers to lose respect for stop signs and stop complying with them. Berkeley's stop sign policy describes two downsides of too many stop signs as "may create compliance problems where motorists do not acknowledge the need to stop" and "safety issues for pedestrians when compliance is poor."
The City of Berkeley notes "each year the City receives many inquiries about installing stop signs as a way to reduce speeding. However, research shows that other measures are more effective than adding stop signs. The purpose of stop signs is to assign right of way at an intersection, not to control speed."
These other measures are primarily design and engineering approaches, but also enforcement.
Design and Engineering for Safer Streets
NACTO has published street design guides, including my favorite, Designing Streets for Kids, which showcases the best global designs for children and their caregivers — but that are also great for seniors.
NACTO's Urban Street Design Guide has dozens of design and engineering suggestions for safer urban streets. One of my favorites is the mini-roundabout. Santa Monica has a few of these, though they are much more common in Berkeley (where residents can request a traffic circle) and Seattle (where the city constructs traffic circles that are later adopted and maintained by area residents).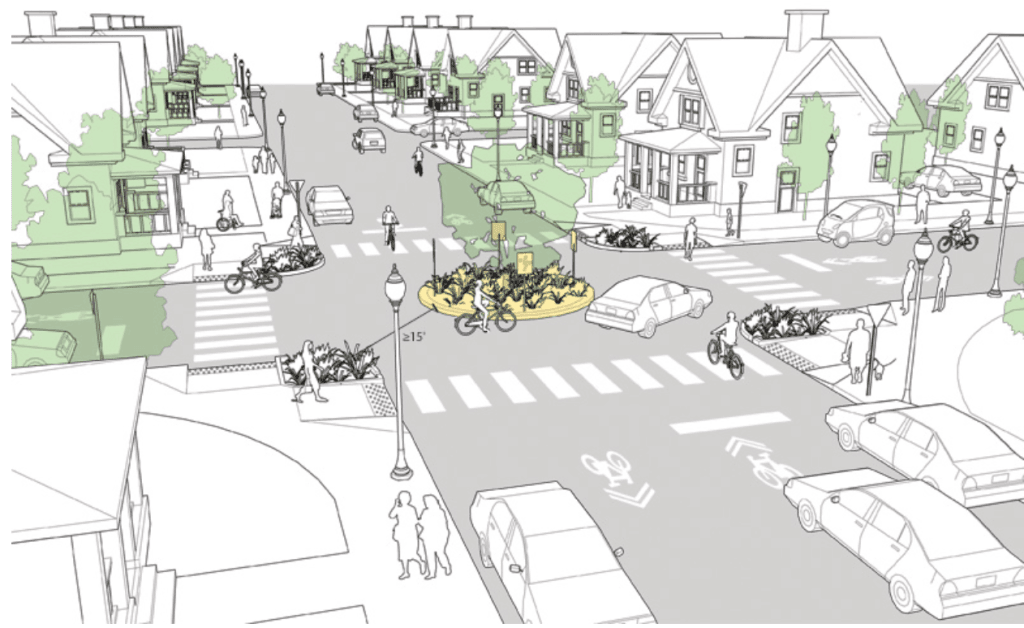 Intersection Visibility – Daylighting
Visibility may have been a factor in the crash at 19th St. and Idaho Avenue. Parked cars and trucks, trees, utility boxes, can all obscure sight lines between someone crossing a street and drivers on a through street. The image below, from the San Francisco Municipal Transportation Agency, shows this visibility challenge and its remedy, known as "daylighting."

A new law signed by Governor Newsom in October, AB 413, prohibits vehicles from parking or stopping at the curb within twenty feet of a marked crosswalk or intersection.
19th Street and Idaho Avenue is already marked for daylighting – the curbs at 19th Street & Idaho Ave marked red for at least 20 feet in the direction of approaching vehicles. However, compliance with red curb markings is probably lower than compliance with stop signs.
The ability to order anything, including meals and liquor, over the internet has led to significant increases in demand for short-term loading spaces in residential neighborhoods. Because cities like Santa Monica have not reconfigured their curbs in residential or business districts, much of this delivery activity happens in a way that creates adverse safety impacts – either double parking, parking in bike lanes, or, in the case of 19th & Idaho, parking in daylighting zones.
This video of a USPS van parked along a restricted red curb in the daylighting zone near the intersection at 19th and Idaho demonstrates how visual obstructions at intersections can contribute to crash risk.
 

 

View this post on Instagram

 
When red paint isn't enough, cities can use flexi posts to physically restrict parking near intersections, as in this video of Hoboken, NJ.