Editor's note: Due to the sensitivity of the matter, at the request of the organizers, Santa Monica Next refrained from photographing the event.
It was standing room only in the Thelma Terry Building at Virginia Avenue Park as crowds poured in to hear about immigrants' rights in the beachside city in the era of President Donald Trump.
The bilingual forum — which was presented in collaboration with Familias Latinas Unidas, a local activist group based out of Virginia Avenue Park — featured Santa Monica Mayor Ted Winterer, Police Chief Jacqueline Seabrooks, and Dalia Setareh, a senior attorney at the Legal Aid Foundation.
"Here in Santa Monica, we reject racial profiling; we reject mass deportation; and we reject travel bans as a means of immigration enforcement," said Winterer to applause Wednesday night.
Santa Monica "won't use city resources to apprehend anyone whose only crime is that they are undocumented," he said, reaffirming that he and all six of his colleagues on the Santa Monica City Council are "committed to protecting our residents and workers in our community."
Twenty-three percent of Santa Monica residents, he said, are foreign born immigrants.
Seabrooks reaffirmed Santa Monica's 40-year policy of not assisting with immigration enforcement, which was outlined in a statement the department issued in November shortly after Trump's election.
Responding to claims made by the White House that Trump intends to deputize local police in order to enforce his anti-immigration policies, Seabrooks said, that is "out of his jurisdiction."
"We take policy direction that comes from your mayor and your city council, not from the president," she said.
At the meeting, cards were distributed with scripted responses in English on one side and in Spanish on the other side, a reminder of people's basic rights when interacting with law enforcement. Speaking in Spanish, Setareh took the crowded room through a detailed presentation on the rights of immigrants under federal law, regardless of whether they are documented.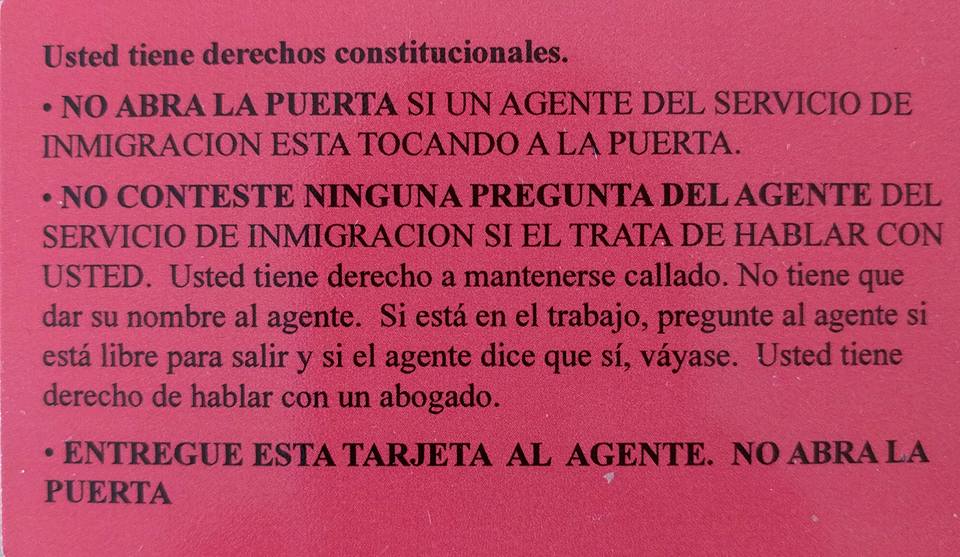 Long-time Santa Monica resident Gloria Garcia thought the event was very important, given the uncertainty of the times.
"It is very important because I think Latinos and immigrants — whether they are here legally or illegally — we can be discriminated against," she said. "What is going on with the government we have now is causing a lot of anguish. The children are very scared."
"It's very important to have information," she said. "Laws are changing everyday."
Winterer announced at the end of the meeting that there would be another workshop in early March and that the City Attorney's office would prepare a resolution to be presented at the next City Council meeting on February 28.