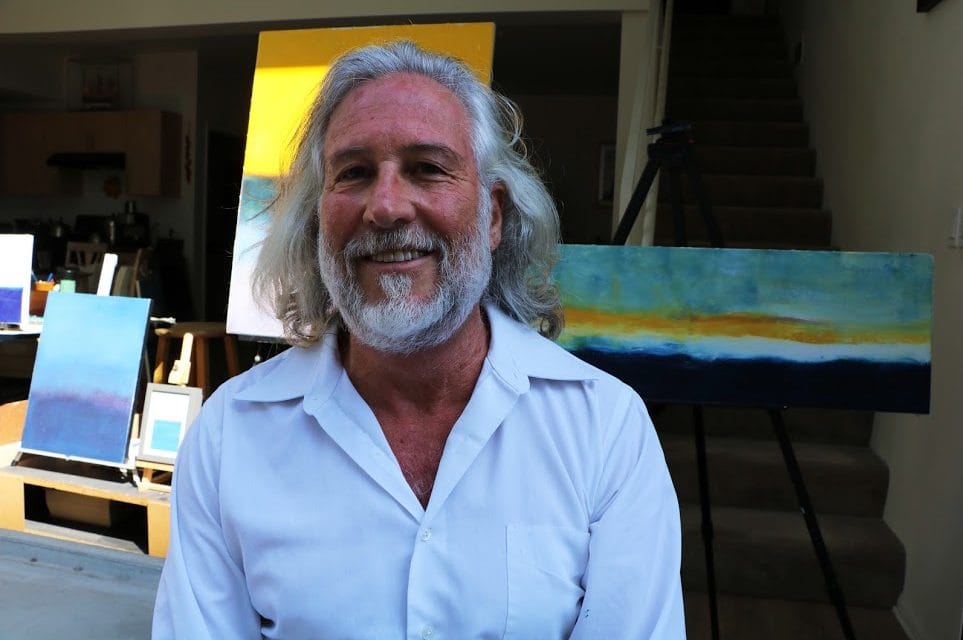 For the last two years, local artist and long-time Santa Monica resident Michael Baroff has called his art studio home.
The two-level loft in which Baroff has set up shop is one of 10 artists live/work spaces in the Belmar Apartments, a 160-unit affordable housing building located directly across the street to the south of Tongva Park.
The silver-haired Baroff, who when talking about his upcoming birthday says he is "completing my 65th year," has set up his drafting table on the ground floor, looking out toward the pedestrian pathway on to which his studio opens and from which passersby can see dozens of examples of his work.
"This is the greatest opportunity to do work and show it and potentially make it available to the public," Baroff, who has lived in or around Santa Monica for more than 40 years, said in an interview at his studio.
He was reminiscing about how he ended up getting the chance to live and work in his current setting.
After decades working as an "organizational effectiveness and workplace training consultant," Baroff said, work slowed down largely due to the economic crisis that hit the country in 2008. While the slowdown allowed Baroff to focus more on his art, which had at times taken a back seat to his career and raising his daughter.
Around the time that a steady job opportunity fell through in 2014, Baroff got a mailer advertising the grand opening of the Belmar Apartments and specifically the availability of the artist live/work spaces.
Baroff qualified both because of his income and because he had been a practicing artist since he graduated from UCLA in the early 1970s and had a robust portfolio. He saw it as a sign.
"The universe is saying, 'OK, Michael, you didn't get that perfect job. You need to focus on your art.' So, here I am," he said.
The Belmar Apartments, which are now operated by Santa Monica's biggest affordable housing provider, Community Corporation of Santa Monica, were developed as part of the Related Company's mixed-use, mixed-income Ocean Avenue South project. Across the pedestrian path outside Baroff's window is the Waverly, a complex of luxury condos, which help subsidize the affordable housing.
Having won the "proverbial lottery," as Baroff described being chosen to live in the Belmar, he said he is thankful and thinks of himself as very privileged to have been able to live in one of these units now that he is "transitioning" — he doesn't like to use the word "retired" — to a new phase of his life.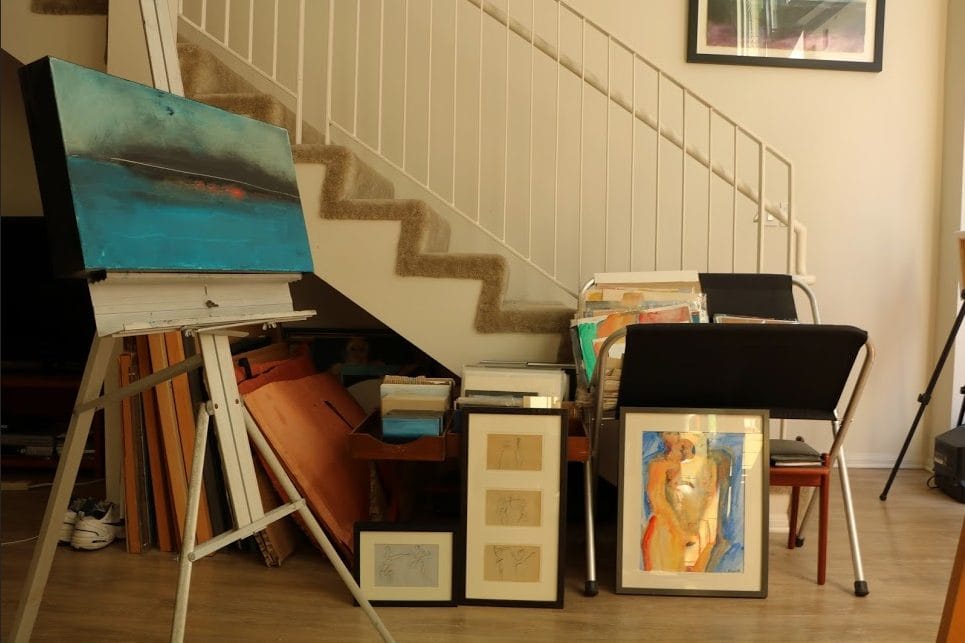 His live/work space is strewn with dozens of examples of his work, which range from figure drawing to his more interpretative "metascapes," which he describes as "transitional painting."
Somewhere between realism and abstraction, he said, lies the metascape. At first glance, one might see these paintings as variations of a sunset, but they are more studies in color and mood than a depiction of any physical thing.
Baroff describes the metascapes, which he does not title, "all coming from my own expressionistic experience in the moment."
He recited a haiku to help explain the concept:
Looking inward
Beyond the horizon
A clear vision
While Baroff may be beginning his 66th year in August, he isn't planning on slowing down anytime soon. A former PTA president from when his daughter was a student at the Santa Monica Alternative School House (SMASH), he is no stranger to civic engagement.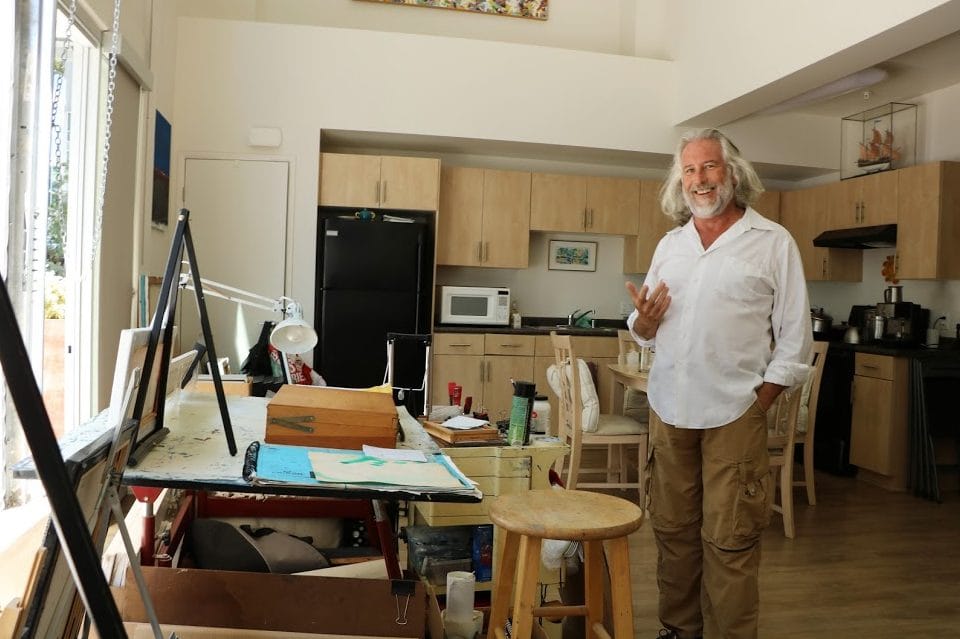 He is currently applying to be on the city's Arts Commission, he is currently on the Emeritus College advisory council, and he gives seminars on conscious aging to his peers.
He also keeps active because he is car-free, though originally not by choice.
Baroff was driving with his daughter on New Year's Eve when he was rear-ended.
"The car was totalled, as they call it in the insurance company," he said. Instead of freaking out about it, he thought, "how can I make the most of this?" It's a philosophy he applies to much of his life, he said.
Now, he has his bike fixed up, he has a TAP card, he walks a lot, and when he needs to, he catches rides with friends or uses WaiveCar, the ad-driven car-share service based in Santa Monica.
"I've got a wonderful app called 'NextBus' and it tells me when the next bus is," Baroff said. "And it's usually accurate."
Baroff has been advocating for formal inclusion of the area around the Belmar and the Waverly in the downtown. And, he is actively working with the city and fellow artists in the complex to enliven the pedestrian walkway that passes in front of his studio.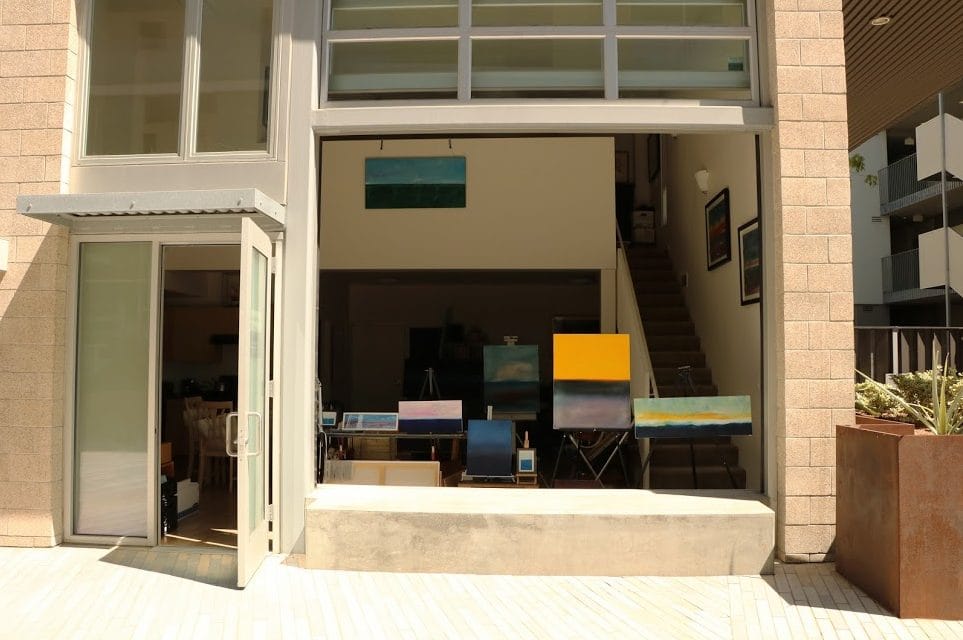 In the other live/work spaces, Baroff said, there "actors, writers, other performers, a photographer" and because they all live and work in close proximity, they have been getting together and building a community in the area.
"I've lived in other kinds of buildings but nothing like this," he said of the level of community he has experienced with his neighbors. "It's unique for any kind of living complex."
While Baroff says that he still has work to do in terms of building up his visibility, his current arrangement is ideal for the pace at which he is currently living and working.
"I'm not in the place of wanting to, I'll use the word 'compete,' in the art market," he said. "I'm finding what works for me is these conversations, these ways of people engaging with my work."
Being able to work out of his home as well as sell to customers there "keeps the price point reasonable" but it also allows for more "intimate relationships with people" who buy his paintings, he said.
"I'm looking to have a 'sustainable' lifestyle," Baroff said.  "I feel I create and offer work that is valuable and if you like it, we can make a deal or a trade. It's a matter of trying to enjoy my life as best I can."
Baroff's studio is located at 1725 Ocean Avenue. To see his art or to find out more, you can visit metascapeart.com.