While researching the Streetsblog Los Angeles story concerning the new regional push for bike share, I had a chance to talk with Santa Monica Mayor Pam O'Connor about what role Santa Monica has in the regional effort. As Gary Kavanagh reported last month, Santa Monica leaped Long Beach and Los Angeles in the race to be the first L.A. County city to have bike share when it approved a motion to pursue proposals for a city-wide bike share system.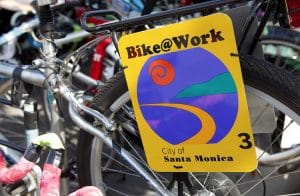 Yesterday, Streetsblog reported that a near-majority of the members of the Metro Board of Directors, including O'Connor, is pushing a motion for the county's transit authority to pursue a regional bike share. So what does the Metro motion mean for Santa Monica?
It depends on your point of view. O'Connor promised that Santa Monica would continue to pursue a city-wide, or sub-regional, program even as its neighbors, including Los Angeles, Culver City, West Hollywood and Long Beach, examine what it can take to bring a regional system.
"Hopefully, we're all going to work together, but we can also get something going sub-regionally, " O'Conner commented. "Santa Monica shouldn't have a different bike share system than Los Angeles or Culver City,"
Santa Monica's bike share grant is funded through the California Transportation Commission which requires the city to have its Request for Proposals released this December. When it became clear that regional interests were interested in regional bike share, Santa Monica staff through O'Conner authored a motion to allow an extension of the grant. The motion, now co-sponsored by Garcetti and L.A. County Supervisor Zev Yaroslavsky, concludes:
It is important that Bikeshare programs in Los Angeles County be developed with an  emphasis on regional compatibility and provide for inter-operability for the user patrons.  It is to this end that we urge the Metro Board of Directors to support the City of Santa  Monica in its CTC grant extension application as being in the best interest of the entire region.
O'Conner also pointed out that the push for regional bike share isn't something that's just starting. Assembly Member Richard Bloom, a former Santa Monica Mayor in his own right, is holding meetings with interested cities to discuss a regional system. One such meeting was last night in Beverly Hills with the Westside Council of Governments.  The meeting included Bloom and O'Connor, Metro CEO Art Leahy, Los Angeles Director of Transportation Borja Leon, and representatives from Culver City and West Hollywood.
This isn't the first time that Metro began a study on regional bike share, but when Los Angeles announced it was working with Bike Nation, the regional investigation was pushed to the back burner. With the biggest player throwing its lot with a provider, a regional approach seemed un doable.
"L.A. decided they were going to go with a particular brand under Mayor Vlllaraigosa, but that fell apart," O'Connor commented on the Bike Nation Deal. "That was decided without talking to anyone else."
But now Los Angeles is on board, and regionalism seems to be the talk of the county. While Santa Monica leads, it doesn't want the rest of the county to be left behind.
"We are building momentum," writes L.A.'s Leon of the new efforts. "in a good way,"